Harrison Ford Among Those Eyed To Join Asa Butterfield In Ender's Game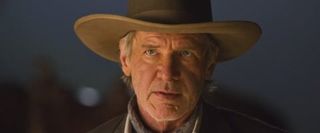 Right before Asa Butterfield spent a weekend in New York doing press for Hugo, it was all but announced that he would be starring in Ender's Game, an adaptation of Orson Scott Card's landmark children's novel. But of course, Butterfield couldn't confirm anything, so he spent the weekend hedging questions about Ender while smiling in a way that suggested it was totally in the bag. Now it really is official, according to Variety and Butterfield's own Twitter feed, and it's time for a bigger name actor to join Butterfield in the cast.
Variety's report says that several high-profile actors are being eyed to play Colonel Hyrum Graff, the commander of the military unit that recruits expert child gamer Ender. Viggo Mortensen had been their goal for a while, but apparently the producers are shifting directions and looking at several options, including Harrison Ford. Given that the character's name basically sounds like the kind of "harumph" the constantly grumpy Ford might give, he's kind of perfect for the role, though it's unclear why Ford would sign on for a film that could easily land him in a franchise-- there are several Ender books by Orson Scott Card. Isn't the general assumption that Ford is quasi-retired, and only shows up when there's easy money or the chance to wear a cowboy hat? Not that he wouldn't be great in Ender's Game, but I just have a hard time seeing him taking the role.
Regardless of who winds up playing the main adult role, Gavin Hood is still directing the film, which is set for a March 15, 2013 release from Summit Entertainment.
Staff Writer at CinemaBlend
Your Daily Blend of Entertainment News
Thank you for signing up to CinemaBlend. You will receive a verification email shortly.
There was a problem. Please refresh the page and try again.