Harry Potter And The Goblet Of Fire Director Mike Newell To Make The Day Of The Triffids Remake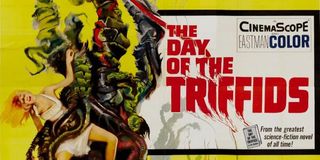 Beware the shrubbery! 1951's Day Of The Triffids is one of the most beloved science fiction books of all time, telling the story about the collapse of a civilization in the wake of collective blindness prompted by dangerous unknown plants. The story was a product of its time and environment, and the politics were clumsily adapted for a camp classic 1962 film, but John Wyndham's original story seems ripe for a re-imagining - one much grislier than the other interpretations of the story. Now that new adaptation has found a director.
Deadline reports that Mike Newell is onboard to helm a new interpretation of the classic for Sam Raimi's Ghost House Pictures and producers Mark Gordon, Don Murphy and Michael Preger, with Murphy's partner at Angry Films Susan Montford executive producing. This would be Newell's first foray into the horror genre and science fiction - unless you count the serial killer procedural Bad Blood from 1981. Newell's spent his career hovering between "no style" and "versatile journeyman," getting his big break when Four Wedding And A Funeral became the unlikely fifth Best Picture nominee among a group that included Forrest Gump, Pulp Fiction, The Shawshank Redemption and Quiz Show back in 1995. He had a respectable but anonymous run after that until Harry Potter And The Goblet Of Fire, which wound up being his biggest financial success. Unfortunately, this goodwill was put towards what was ultimately an unwatchable adaptation of Love In The Time of Cholera and the dodgy Prince Of Persia: The Sands Of Time.
Producer Don Murphy has an assured moneymaker coming this year with Transformers: Age Of Extinction, though his recent/upcoming credits also include the questionable-looking Vampire Academy, the dim robot boxing actioner Real Steel, and the ludicrous jokefest Shoot 'Em Up. He and Montford, his wife, at least collaborated on the surprisingly nasty horror picture While She Was Out, which Montford directed, though that hack-and-slash mentality probably isn't the best approach for something like Day of the Triffids.
They'll be working with a script from Neil Cross. In the film world, Cross was a co-writer on last year's horror hit Mama, but Anglophiles might know him better as a writer series such as MI5 and Doctor Who, while also creating the slick Idris Elba cop procedural Luther. Cross was apparently brought on to work on the remake back in 2012, but Murphy and Raimi have been interested in a 3D retelling of the property since 2010 (though mention of 3D isn't a part of this latest announcement).
Newell has recently been working on Reykjavik, a new political drama that features Christoph Waltz as Mikhail Gorbachev and Michael Douglas as Ronald Reagan - a project that sounds pretty darn tasteful. Beyond that, he should be free to tackle this theoretical tentpole. Deadline doesn't say if this new adaptation will hew closer to the books, given that in the source material the plants are earthbound, but in the original film they are malicious aliens. There is an opportunity here to produce a version of the story closer to the book, but another, more commercial chance to one-up the spectacle of the 1962 version seems more likely.
Your Daily Blend of Entertainment News
Thank you for signing up to CinemaBlend. You will receive a verification email shortly.
There was a problem. Please refresh the page and try again.