Harvey Weinstein And George Clooney Explain New August: Osage County Ending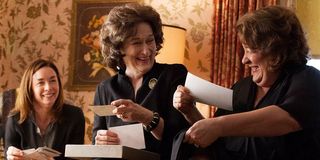 And so the spin cycle begins! In Oscar season, Harvey Weinstein is like Creasy in Man On Fire and he's about to paint his masterpiece. The latest weapon at Harvey's disposal is August: Osage County and since its premiere at the Toronto International Film Festival, it's generated lots of controversy. The reason for that is the crowd at TIFF saw an ending that has since been changed in time for the film's recent L.A. premiere and next week's release. And if you read between the lines, that original ending didn't "work," and now Harvey and producer George Clooney (you've heard of him) have come out to discuss why the change was made. As you'd expect, it's very spin-y.
Speaking to Deadline, Harvey claims the version that showed at Toronto was "unfinished," telling the site, "When it comes to Oscars, I'll take bets on this movie, it's going to be a surprise and a sleeper, but it's gonna be there." No one can make a movie sound like a horse better than Harvey. Apparently the film has been test-screening, giving the studio options, which all parties would like for you to believe were mutual decisions made by Weinstein, Clooney, director John Wells and the playwright and screenwriter Tracy Letts.
Weinstein claims the original version created a "disconnect," one that has apparently been fixed by a minor alteration. We're treading into MINOR SPOILERS territory here, so put on your life raft and hold on! The play runs a north of three hours, so the material needed to be condensed heavily for a film version, and that's resulted in Letts' offhandedly referring to Julia Roberts' Barbara as the "main" character, though this is very much a large ensemble where Barbara doesn't even show up until around a half hour into the original play. Originally, condensing the play meant using an ending that would have effectively made it Meryl Streep's film.
The new version, which closes on a song Kings of Leon wrote specifically for the film, is a lot sunnier, visually and thematically, without changing the actual ending, confirming it's actually Julia Roberts' film. One could argue neither is appropriate, but when things don't work, they get monkeyed with by Harvey Weinstein. John Wells is a TV director who debuted on the big screen with the stylistically polite, largely obvious market-crash drama The Company Men, so there's reason to believe that, like the rest of the movie, the original ending doesn't work. In fact, it sounds like two forces crashing, specifically Wells and Letts. Wells' approach to the material is serious, stagey, and straightforward, but even the Golden Globes characterized August: Osage County as a "musical or comedy." Going with the original ending would have required some heavy maneuvering from a deft director who can manage tone, but it sounds like Wells' delivered a very literal-minded reading of the text, necessitating the sort of change normally seen at the end of romantic comedies.
Clooney makes the case of the ending distinguishing the film from its seasonal competitors, turning the discussion towards box office and slyly reminding people he's pushed his Monuments Men to February. "It's about lasting longer than an opening weekend on a film we are very proud of and which is the next natural extension for Tracy's play," Clooney says. "We want to make sure this doesn't get lost. We're coming out in the middle of the most crowded time I think I've ever seen." Deadline notes that August: Osage County was also originally scheduled to go wide this Christmas, but instead it will open small on that date and platform until a January 10th wide release.
Weinstein notes that the true mark of excellence for this film is the fact that Streep is a fan, citing the extra days after the premiere that the usually-busy Streep stuck around in order to promote the film. It all just kind of seems like white noise, a way to distract the audience from a movie that's just problematic all over. August: Osage County ultimately is fairly dark material, and while Weinstein claims it's a "crowd-pleaser" the themes of death, drugs, incest and betrayal (as well as a darkly comedic tone, one that Wells keeps bungling) are a tough sell for audiences wanting something more upbeat, something that the new last scene attempts to alleviate. Politicking as usual from the Weinsteins and their coterie of subpar "prestige" offerings. But you be the judge; the trailer is embedded below.
Your Daily Blend of Entertainment News
Thank you for signing up to CinemaBlend. You will receive a verification email shortly.
There was a problem. Please refresh the page and try again.