Hear Me Out: Tom Hooper Cannot Direct Sacha Baron Cohen's Freddie Mercury Biopic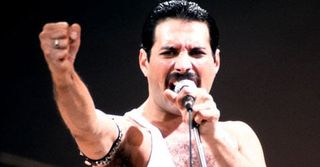 British helmer Tom Hooper has only four films to his credit, but thanks to The King's Speech and Les Miserables has already scored plenty of Academy Award notice as well as the Oscar for Best Director. But guys, I don't get it. Yes, The King's Speech was a crowd pleaser, but it was also painfully predictable. The most exciting element of the whole film was that the MPAA took issue with its use of four-letter words.
Then came Les Miserables, which polarized critics, even here at Cinema Blend with me and Sean hating it hard, and Katey singing its praises. Still, the Academy was gaga for this grandiose movie musical, giving it eight nominations and three awards. So, Hooper is obviously getting lots of tempting offers for his follow-up, including—as Deadline reports—the in-development Freddie Mercury biopic. And I can't think of a single possible project he'd be more wrong for.
I know lots and lots of people like Hooper's movies. I accept that. He's competent at crafting moments of crushing heartbreak and soaring victory. It's just that there's nothing unique about the way he does these things. My main issue with his adaptation of Les Mis is that it lacked imagination, rendering many of the layered characters I remembered from the Broadway show (that I can sing—poorly—from memory) into two-dimensional archetypes without souls. And the music of Freddie Mercury is all about passion and soul.
Every note the Queen frontman sang was radiant with emotion. A proper biopic about his life not only requires a lead who can capture that mad level of unrestrained charisma, but also a director who can make the whole film breathe with that energy. While I was initially thrown by the casting of Sacha Baron Cohen for the lead role, I've grown to appreciate this decision.
Yes, The Dictator was a miss, but it also took a lot of risks, and had a lot of energy. Cohen is a bold and risky performer, and he's got pipes as we've seen in Sweeney Todd and to a lesser degree Les Mis. But also in Les Mis, we saw that he needs a director who knows how to manage his ideas and energy. Because compared to all the ever-dour characters that surrounded him, Cohen's Thenardier came off as wildly out of place, like he'd stepped onto the wrong set altogether.
I've loved Queen since I was a child in awe of "Bohemian Rhapsody." (Thanks Wayne's World!) As a teen, my affection for the long dead-Mercury was an element that fueled my bond with my best friend as well as my flirtation with the boyfriend who later became my husband. I've listened to Mercury sing on long car rides over mountains, and sunny ambles on my own through Central Park. As a fan, I feel I own a part of his story, and I'm sure I'm not alone. But someone as unique as the man who became Freddie Mercury demands (and his fans deserve) a filmmaker to tell his story whose approach is similarly fearless and larger than life. That's not Hooper. There are plenty of big dramas out there he can sink his teeth into. I'm really hoping he doesn't make this one bite.
This poll is no longer available.
Your Daily Blend of Entertainment News
Staff writer at CinemaBlend.