Here's Why The LEGO Movie's Blu-ray Release Will Be Awesome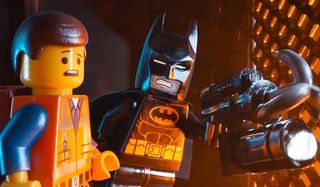 Everything is awesome—or it will be, as soon as Warner Bros. Home Entertainment releases this winter's The LEGO Movie onto Blu-ray, DVD and Digital. The movie won't actually be released into homes until June, which means we still have a while to wait, but Warner Bros. is promising a set with multiple editions and plenty of extras for the kiddos and adults with plenty of kiddo inside of them.
The LEGO Movie stars Chris Pratt as Emmet, an unpopular Lego minifigure who gets mistaken for a masterbuilder and gets taken on an extremely cool adventure featuring a slew of characters from the LEGO canon, including LEGO Batman (Will Arnett), 1980 spaceman Benny (Charlie Day), pirate Metal Beard (Ron Swanson) and a lovely lady LEGO named Wyldstyle (Elizabeth Banks). The gang, Emmet included, decides to ban together and join one another for a mission against bad guy President Business (Will Ferrell), who really wants to glue down the world so different factions of LEGOs can no longer interact. The film's twist ending, refreshing jokes and an awesome theme song by Tegan and Sara and the Lonely Island have made it a favorite among audiences of multiple ages (and made a sequel a no-brainer). And, since we can't pass up an opportunity to engage with "Everything is Awesome," here it is:
Fans will be able to purchase the flick in a variety of formats, but it should be noted that The LEGO Movie isn't getting an early Digital release. Instead, all formats will hit homes on June 17. If you aren't a fan of Digital copies, you can choose from a standard Blu-ray combo pack, a 2-Disc Special Edition DVD and the "Everything is Awesome" Blu-ray Edition, which will come with a few extras for fans. Basically, with the "Everything is Awesome" Edition, you are paying for an exclusive LEGO Vitruvius minifigure, one extra bonus feature, and a collectible Emmet photo.
All the different copies of the film are already available for pre-order over at Amazon. Before you order, you can check out the complete list of bonus features (collectibles not included), below. Or you can check out a blooper reel from the movie before its official release.
The LEGO Movie Blu-ray Combo Pack and DVD 2-Disc Special Edition
Feature commentary
Batman: A True Artist
Michelangelo and Lincoln: History Cops
Enter the Ninjago
Bringing LEGO® to Life
"Everything is Awesome" Sing-Along
See it! Build it!
Stories from the Story Team
Fan-Made Films: Top Secret Submissions
Outtakes
Additional Promotional Content
Alleyway Test
Deleted Scenes
The LEGO Movie Everything is Awesome Edition Exclusive Extra
All the Blu-ray and DVD Extras
PLUS Dream Job: Meet The LEGO® Builders
Your Daily Blend of Entertainment News
Reality TV fan with a pinch of Disney fairy dust thrown in. Theme park junkie. If you've created a rom-com I've probably watched it.