Horror Flick Welcome To Yesterday Gets A New Title, New Release Date, New Momentum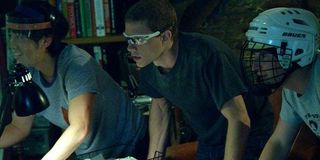 With only a few weeks before its February release, we hadn't seen a shred of marketing for Welcome To Yesterday, the low budget time travel thriller produced by Michael Bay. Usually that's a bad sign, suggesting a problematic picture, a film the studio does not want to release. But the Platinum Dunes pic ultimately was headed back in the shop for an upgrade, and it's come back with a different name and a different appearance.
At CinemaCon, Paramount Pictures (via THR) reported that the film was changing titles, and would now be known as Project Almanac, echoing the original title of the script, Almanac. While the picture was yanked from its old release date of February 28th, it's now going to get its own spot on January 30th, 2015. Apparently the shift to Project Almanac comes from a late-in-the-game partnership with MTV Films, who are going to work to get the film out to the younger demographic that has apparently responded positively to test screenings, specifically high (as in age!) teens and college students.
The film, produced through Bay's Platinum Dunes shingle, is a found-footage horror film, and for most horror fans phrases like "found footage" "horror film" and "Platinum Dunes" is where you get off. But the end result was promising enough to get director Dean Israelite on the shortlist to helm Dr. Strange. This release date shift places Project Almanac's debut close to that of Chronicle a couple of years ago, another similarly low budget genre effort seen through the found-footage spectrum.
The shift to January 30th pits Platinum Dunes against another horror moneymaker, producer Jason Blum (Paranormal Acitivty) who previously slotted the low budget horror flick Lazarus with Mark Duplass and Olivia Wilde on that day. The producer apparently saw enough in the Almanac script to hire its writers, Jason Pagan and Andrew Stark, to script Paranormal Activity 5. Lazarus also stars Donald Glover and Evan Peters and centers on a group of research students who accidentally reanimate one of their dead peers and must come to terms with the consequences. Not to say January 30th can't contain two low budget horror films, but right now January 23rd only has the dubious-sounding Jennifer Lopez film The Boy Next Door, and Paramount has no other titles being released that month. Just sayin'.
You can check out the trailer for Project Almanac below...
Your Daily Blend of Entertainment News