How Henry Cavill Improved On Christopher Reeve's Clark Kent, According To Henry Cavill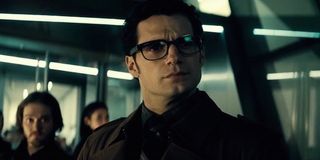 When Kal-El of Krypton isn't protecting the innocent as Superman, he keeps a low profile as Clark Kent, the Earth identity he's had since he was a baby. However, now that he's a full-fledged superhero following Man of Steel, Clark needs to make sure that no suspects he's Superman, thus necessitating changes to his public personality. This is a recurring element that's been seen in many Superman stories across different media, but the best example of this was Christopher Reeve's Clark Kent in the original Superman movies. However, according to Henry Cavill, the methods the DC Extended Universe's Clark uses to keeping his identity secret improves on what Reeve's Clark did.
Admitting that comparisons between his Clark Kent and Christopher Reeve's are inevitable, Cavill explained to French magazine Studio Cine Live (via Batman-News) how his iteration of the Daily Planet journalist chooses to keep a low profile in Batman v Superman: Dawn of Justice rather than draw attention to himself. The actor said:
While Cavill's comments certainly have merit, it was Reeve's awkward performance that made his Clark so memorable, adopted a hiding-in-plain-sight approach to make sure no one guessed who he really was. By acting clumsy and socially inept, he made it so that any friend, co-worker or stranger would never believe he's the Man of Steel. Cavill's Clark, on the other hand, has opted to be more secretive so no one looks to closely at him. Granted, both have to deal with the fact that they only change their hairstyle and put on a pair of glasses to disguise themselves physically, but in any DC universe, those are enough to get the job done.
While we already know Superman will be dealing with Batman, Lex Luthor and Doomsday in Batman v Superman: Dawn of Justice, he'll also be getting into his own antics digging up information on Batman. In the most recent trailer, we saw Clark asking Bruce Wayne what his position was on Gotham City's Dark Knight was, and Clark specifically notes how the vigilante is infringing on civil liberties. Evidently Clark's investigation into Batman, and trying to convince people he's a menace will draw the ire of his editor Perry White. Afterall, we saw in the earlier Comic-Con trailer that White tells Clark no one cares about him "taking on the Batman." Given that they'll soon be on the Justice League together, one would surmise that the two heroes might eventually learn each others identities in the movie, but since they'll be allies, they don't need to worry about the other blabbing.
We'll see how successful Clark's approach to keeping his other life a secret is when Batman v Superman: Dawn of Justice is released on March 25, 2016.
Your Daily Blend of Entertainment News
Connoisseur of Marvel, DC, Star Wars, John Wick, MonsterVerse and Doctor Who lore. He's aware he looks like Harry Potter and Clark Kent.