How The Late Menahem Golan Gambled, And Lost, On The Power Of Modern Superhero Films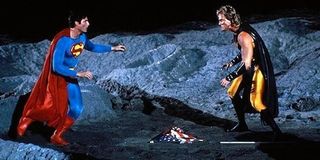 Legendary producer Menahem Golan recently passed away at the age of 85. Golan was a prolific producer who was involved with more than 400 pictures in his lifetime, directing 45 of them. But the bulk of his career occurred in the 80's, when he and cousin Yoram Globus formed Cannon Films, dedicated to bald-faced B-movies and the undemanding audiences who loved them (usually on VHS). Losing Golan doesn't mean the passing of a man. It means the death of a legacy.
But what most people don't know is that Golan largely shaped the Hollywood we have today. Golan and Globus were a factory of output, putting out 43 films in 1986 alone. But while their output varied, they kept a very small pool of collaborators. Most interesting was their loyalty to directors, an eclectic bunch that included Joseph Zito (Invasion U.S.A.), Tobe Hooper (The Texas Chain Saw Massacre 2) and Andrei Konchalovsky (Runaway Train). That created something of a "house style" where their films bore similar visual elements, not unlike how Marvel employs directors now. It almost felt as if Delta Force existed in the same universe as Missing In Action, or that Breakin' 2: Electric Boogaloo shared DNA with Rappin'.
They also played their part in escalating star salaries. Sylvester Stallone reportedly earned $12 million for Over The Top, a campy Golan-directed film about arm wrestling. It was the biggest paycheck ever given to an actor at the time, and it stood out simply because Over The Top was terrible. A new salary structure kicked in where big stars received exorbitant sums for trivial films, and soon actors were regularly pulling down $20 million each. We're now in an era where budgets have tightened, so an actor not having his quote met raises some eyebrows.
More important, Golan and Globus chased fads. They went all in on ninja films, responsible for Enter The Ninja and American Ninja amongst a slew of ninja-related theatrical pictures. And they loved dance, as evidenced by Salome, Salsa and the aforementioned Breakin' movies. When they split up, Golan and Globus memorably used their shared rights to Lambada dancing by producing The Forbidden Dance and Lambada, respectively. Both films hilariously came out on the same day. Neither are classics of the genre.
But one of the fads that Menahem Golan chased was one that proved he was ahead of his time. The continued influence of special effects convinced him that superheroes were reasonable movie material. And so he gambled Cannon's fortunes on costumed heroes, spending so much money that he was wiped out within a couple of years. Warner Bros.' Superman series had shown declining grosses, so they basically farmed out a fourth film to Cannon to produce. But Cannon was already hemorrhaging money when they acquired the Superman rights, and the allotted money from Warner Bros. was instead divvied up amongst other Cannon projects, leaving Superman IV: The Quest For Peace with a skimpy budget. Worse still, no one wanted to come back, so they appealed to egos: Christopher Reeve was enticed to return with a promise he'd be involved with developing the story, and later directing a Superman V. This is basically like if Marvel allowed Lionsgate to make Iron Man 4, and Robert Downey Jr. was offered a chance to helm part 5, even though half the budget was going into Tyler Perry's pocket.
Cannon's crown jewel was Spider-Man. They sought to utilize the rights to make a film, releasing ads and the above trailer for the picture before a frame was shot. The assumption was they'd be flush with cash by the time they were ready to make Spider-Man. That thought process came from two big films, Masters Of The Universe and Captain America. Cannon developed a licensing relationship with Mattel for the He-Man movie, and were so confident in the property that a post-credits tag basically announced a sequel. Don't think a young Kevin Feige didn't notice that.
Masters Of The Universe performed so poorly, however, that Mattel actually sold far less He-Man merchandise once the movie came out. PopMatters notes that Masters of the Universe sales dropped from $400 million to $7 million the year the movie came out. Brutal. It was a huge blow to Cannon, who had already started building the sets for the sequel (sets later used for Jean-Claude Van Damme's Cyborg).
And if the box office results for He-Man shoved a blade into the gut of Cannon's yet-to-be-filmed Spider-Man, then the underperforming Captain America tugged on the blade to complete the kill. Cannon was stripped of money and Golan left the studio shortly after film wrapped, and it sat on the shelf for a couple of years. The production values are meager: after seeing the modern Captain America movies, you just feel bad for everyone involved in the older film.
It's probably a blessing that these movies never took off. The effects just weren't up to snuff, and Cannon's budgetary commitment would have been insubstantial. But as Marvel and DC prepare to go hard on movie schedules with multiple superhero movies in the next few years, it's worth noting that they're not capitalizing on a fresh new trend. As it turns out, Cannon was there first.