How The Shawshank Redemption Would Have Ended Without Studio Notes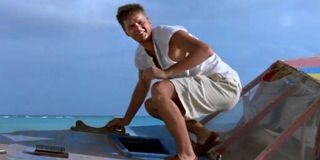 Usually the phrase "studio notes" is one that makes cinephiles sneer. As they set out to make movies that appeal to the masses, studios are regularly regarded as some necessary evil that brings us great spectacle, but willfully dumbs down an auteur's vision. This might be a perception we get because stories about bad studio notes catch on way more often than those about good ones do. Regardless, it turns out studio notes made a major and positive difference on the ending of the much beloved Shawshank Redemption.
In commemoration of The Shawshank Redemption's 20th anniversary, The Academy of Motion Pictures Arts & Sciences held a celebration screening and Q&A at the Samuel Goldwyn Theater in Beverly Hills. In attendance was the movie's writer-director Frank Darabont, as well as its stars, Tim Robbins and Morgan Freeman. While sharing some insights on the film and its making, the trio dropped some shocking truths. Among them that studio notes saved The Shawshank Redemption from an ambiguous ending that may have been too much to take.
Adapted from the Stephen King short story "Rita Hayworth and Shawshank Redemption," the early drafts of the script ended with Ellis Boyd 'Red' Redding (Morgan Freeman) taking a bus to Andy Dufresne's (Tim Robbins) long-strived-for sanctuary in Zihuatanejo, Mexico. Meaning, Darabont's original intention was to leave the audience hanging as to whether or not Red would reunite with his friend Andy or not. As Darabont explains:
We can all agree with that, right? After seeing Andy be raped, beaten and brutalized, taken advantage of for his brain and body, forced to lose friends and his chance at legal redemption, we were owed that reunion. I mean, look at it. It's just warm enough to soothe our aching souls after so much misery, death and mayhem. Can you imagine if it just STOPPED at that bus riding down a rural road?
Excuse me a moment.
For more from this The Shawshank Redemption event, check out THR's rundown.
Your Daily Blend of Entertainment News
Staff writer at CinemaBlend.