How They Make Superhero Costumes Fit So Perfectly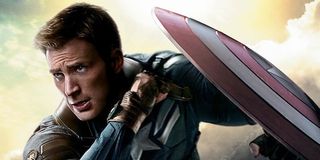 Superhero costumes look unusual, but there's one thing they have going for them: they fit near-perfectly on the wearer. You won't see a costumed vigilante wearing anything baggy or loose-fitting while fighting crime. Obviously this is because a film's costume designers take an actor's measurements and creates the outfit to those specifications, but now it seems that technology is also playing a role. In a recent interview, actor Frank Grillo, who played Brock Rumlow in Captain America: The Winter Soldier, inadvertently revealed the special process that goes into making the outfits that superheroes and supervillains wear while talking about his preparation for the upcoming Captain America: Civil War.
While basically confirming his return as Crossbones in the upcoming sequel, Grillo revealed to Entertainment Weekly the unusual way he has been doing fittings for his return to the Marvel Cinematic Universe. Said Grillo,
If Grillo's return to the Marvel Cinematic Universe is eventually verified, it sounds like he'll be donning the trademark skull mask and X-stamped uniform in the 2016 blockbuster - though his costume will likely be nowhere near as difficult to create as Captain America's uniform or Black Widow's jumpsuit. It sounds like this is the standard procedure that Marvel uses now to get the appropriate size measurements for an actor that will be rocking a colorful outfit in one of their films. It's also a good bet that Warner Bros. and other companies making superhero movies are using this technology or will adopt it at some point so that they too can make perfectly snug superhero costumes.
I'm curious how long this technology has been in use. Obviously computers play a big role in modern movie productions, but scanning a person's body to get their precise measurements sounds especially futuristic. It certainly sounds a lot quicker that having a designer taking the measurements of an actor with measuring tape, although since computers aren't perfect, it wouldn't hurt the designers to verify the numbers the old school way. Also, the actors still need to make sure that their weight doesn't fluctuate, otherwise the whole process is for nothing.
What's next for the world of superhero costume design? Will we even need humans to create costumes in the future? In the past few years 3D printing sure has come a long way. Once an actor is scanned, their measurements are registered by the computer, and provided with a design within minutes you can get a brand new costume fitting the specifications you need. If superhero costumes nowadays look great, just imagine what they'll look like in 300 years... assuming our descendants still care about superhero movies.
Connoisseur of Marvel, DC, Star Wars, John Wick, MonsterVerse and Doctor Who lore. He's aware he looks like Harry Potter and Clark Kent.
Your Daily Blend of Entertainment News
Thank you for signing up to CinemaBlend. You will receive a verification email shortly.
There was a problem. Please refresh the page and try again.