How To Train Your Dragon 2 Coming In 2013, Hopefully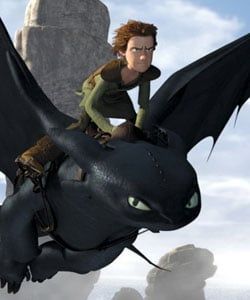 It's kind of a shame that How to Train Your Dragon was released the same year as Toy Story 3 (or any Pixar movie for that matter), because it really is a tremendous film that deserves a few awards. That said, they'll be taking another run at the series very soon aiming for a 2013 release. That may not seem soon, but judging by the turnaround time on original features, that is pretty quick.
Dreamworks Animation is just barely getting started with director Dean DeBlois so there aren't many details on the film just yet, but executive producer Tim Johnson did sit down with Italian site Badtaste.it (via Collider) and spill some knowledge on the sequel:
The team is also working on an animated television series spin off of the adventures of Toothless and Hiccup somewhere around 2012, before the sequel's release. Cartoon Network will be airing the series, rather than Nickelodeon where DWA's Kung Fu Panda series landed, so the producers can keep the same darker, more dramatic feel as the series progresses.
If you haven't seen How to Train Your Dragon, get to it and get excited for all this news. The franchise has a lot of potential and should definitely be on your radar.
Your Daily Blend of Entertainment News
Thank you for signing up to CinemaBlend. You will receive a verification email shortly.
There was a problem. Please refresh the page and try again.