Hugh Jackman Dances Gangnam Style With Psy On Wolverine Set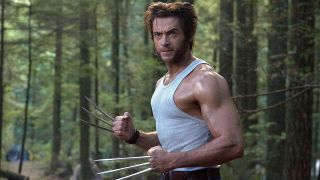 (Image credit: 20th Century Fox)
In the wake of Carly Rae Jepsen's "Call Me Maybe," the infectious and flirty hit song that inspired countless viral videos, it was an unlikely pop song out of Korea called "Gangnam Style" that overtook American pop culture, not only with its largely incomprehensible yet catchy tune but also its easy and fun signature dance. Psy, the South Korean rapper behind this offbeat single, has since been making the rounds with appearances on The Ellen DeGeneres Show, The Today Show and Saturday Night Live. Now he's taken his fame to the next level by teaming up with Hugh Jackman, dancing Gangnam Style while both don Wolverine's trademark adamantium blades.
Check out the video below:
Psy was in Australia continuing his worldwide domination one pony jig at a time, when he dropped in on the set of the The Wolverine. Jackman, a song and dance man who has strutted his stuff on Broadway, at the Oscars, and in the upcoming Les Miserables, was clearly game to get down with the tuxedo-wearing K-Pop sensation. He playfully did the dance with cameras snapping, but best of all is his attempt to get it right! Note: you can hear him count down in hopes they'll do it in unison. The guy's a total pro.
The bromance may have begun here, but it continued with a couple of tweets, which you can see below:
The Wolverine will hit theaters on July 26th, 2013. For more on the film, check out our Blend Film Database.
Your Daily Blend of Entertainment News
Staff writer at CinemaBlend.