The Hunger Games Bests The Stooges And Cabin In The Woods At Friday Box Office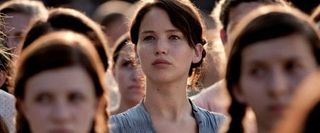 One of the best films of the year so far opened in theaters this weekend, and yet, it's still a Hunger Games world that we're living in. The enormously successful film is on track to be #1 for a third weekend in a row, earning $6.5 million on Sunday on its way to a $20 million weekend. And though The Three Stooges and Cabin in the Woods were essentially tied on Friday, with around $5.5 million apiece, the power of family audiences at matinees will help Stooges pull ahead; according to the estimates at Deadline the Stooges should make $17.5 million, while Cabin in the Woods will come in well behind with $13 million. It's playing in about 500 fewer theaters than the Stooges, though, which makes up a good bit of that difference.
What might be most surprising about all this is how audiences are responding to the Joss Whedon/Drew Goddard horror film. Despite stellar reviews that earned them a 93% Rotten Tomatoes score (our own rave included), the CinemaScore rating from audiences has been a C on average, with a D+ rating from females. That's disappointing for those of us who really love the film, but not totally out of the ordinary-- movies with twist or that become something the audience wasn't quite expecting typically get lower CinemaScore ratings. As much as people might complain about movies being too predictable, they also typically don't respond well to being surprised.
The weekend's other major new release, Lockout, opened on significantly fewer screens that the top three, and with $6.5 million estimated for the entire weekend it will have to settle for sixth place behind Titanic 3D. Let us know in the comments what you're seeing this weekend, and we'll be back with a full box office report this Sunday.
Staff Writer at CinemaBlend
Your Daily Blend of Entertainment News
Thank you for signing up to CinemaBlend. You will receive a verification email shortly.
There was a problem. Please refresh the page and try again.