The Hunger Games: Catching Fire Producer Denies Finnick Casting Rumors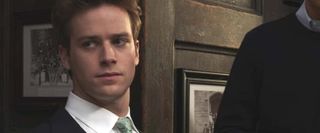 The rumors that emerged last week about who might play Finnick Odair in The Hunger Games sequel Catching Fire seemed so logical they had to be true. Armie Hammer, Garrett Hedlund and Taylor Kitsch all seemed like perfectly reasonable frontrunners to play the charming, handsome, slightly immoral Finnick, and with production on the film set to begin in the fall, it seemed likely the producers would be narrowing down their hunt for a star. And yet, one of the Catching Fire producers says it's not time to get excited yet. The Los Angeles Times caught up with Nina Jacobson on the red carpet for the MTV Movie Awards, and she says things aren't moving nearly that fast yet:
Of course, that's such a vague rebuttal that it's impossible to know what she really means. After all, Catching Fire does start production in just a few months, and Finnick is such a big characters-- and one so treasured by fans-- that Jacobson and her fellow producers know perfectly well that they have to choose carefully. I imagine they've at least been meeting with actors, seeing whose schedules are clear, seeing whose salaries will fit into the budget, all of that. They must also be doing the same for Johanna Mason, the other major character introduced in Catching Fire, and maybe even a trickier character to play. The Hunger Games ma have been a relatively low-budget adventure film with lots of potential, but Catching Fire is the next installment of a bona fide hit franchise, and the pressure is on.
If we assume the original tipster had the right information, Hammer, Hedlund and Kitsch are all still in the running for the part-- but so are other actors, presumably, including some that we're not so familiar with. After all, Catching Fire has enough name recognition that they can pick total unknowns to play Finnick and Johanna, kind of the way Garrett Hedlund was pretty much nobody when he starred in Tron: Legacy. If you want to make your own suggestions of who ought to get the part, though, feel free to let us know in the comments.
Staff Writer at CinemaBlend
Your Daily Blend of Entertainment News
Thank you for signing up to CinemaBlend. You will receive a verification email shortly.
There was a problem. Please refresh the page and try again.