New I Spit On Your Grave Images Attempt To Offend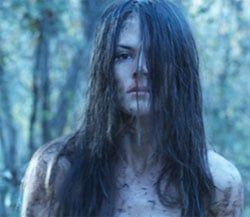 I Spit On Your Grave hopes to be the most controversial movie of the year, and since it's based on the already controversial 1979 cult horror movie Day of the Woman, it might seem they're off to a good start. Like the original, it's a rape and revenge movie. A girl gets raped, the movie festishizes it, and then she gets revenge. Pretty shocking back in 1979 but in the current environment of torture porn saturation it's almost its own genre. I'm pretty sure that says nothing good about us as a culture.
We have five new images from the film which, like the premise, might have been sort of shocking twenty years ago. Now they're familiar, reminiscent of the stuff we've seen Eli Roth and every other recent horror filmmaker doing. Presumably I Spit On Your Grave will do what they do, only with even more nudity… though that's only hinted at in the new photos. Here they are, click each image to see it in high-res:
For more on I Spit On Your Grave visit our preview page.
Your Daily Blend of Entertainment News