IMDB's Most Searched Movies Of The Year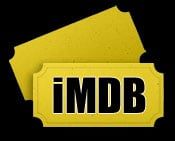 Have you ever looked at the IMDb message boards? They make our some of our more select comments sections look like a Mensa meeting. Commenters aside, IMDb is an essential database of all the vital information you could need about a movie and even a lot of the unessential stuff too. Just as long as you don't actually believe Uwe Boll is directing Halo. Hey, no site's perfect; Josh hired me!
IMDb has published a full list of their Top 25 Most Searched Movies of 2008 complete with pithy quips about the movies in question. I'll run through their top ten with a few thoughts of my own, but to see the interesting and ofter surprising list in full list.
10. Transformers Why a movie from 2007 was more popular than it's sequel we can only guess. My guess is that all this continuing colon-heavy subtitle nonsense means that people had to get to Transformers: Rise of the Fallen through the original Transformers page. Seriously guys, a '2'. Just a '2'. It works, try it.
9. Juno I finally saw Juno early this year and while it wasn't flat out awful I really struggled to see what all the fuss was about. No doubt this appears here as a million hipsters flocked to the "memorable quotes" page to be able to dazzle their equally hipster friends with their quips of the sassy dialogue, none of which particularly sticks in my mind either so no wonder they needed the page for reference. Good memorable dialogue doesn't need to be looked up.
8. No Country For Old Men More shameful than Mamma Mia's gross in the UK was the fact that I was almost the only person in my peer group to appreciate the Coen brothers' masterful adaptation of Cormac McCarthy's novel. The quite menace of the garage scene's minimal dialogue alone was far more memorable than Ellen Page's hyperbolic misquoted pop culture ramblings.
7. Indiana Jones and the Kingdom of the Crystal Skull It wasn't even close to the worst movie of the year despite what some would say but as more time passes it becomes clear that the producer Mr Lucas was far more invested in this project than the director and star ever were. How many hits were people logging on morbidly to see if Harrison Ford had died of old age before the movie's release?
6. Iron Man The second biggest comic book adaptation of the year might not have had as much action as many people would have liked, but Robert Downey Jr showed how you could combine action and humor in a movie more successfully than any Fantastic Four movie ever could. I hear despite the recession it's been a great year for stripper pole retailers.
5. The Expendables Award for the most random inclusion on this list is this Stallone-directed and Statham-starring action flick which I had never heard of until this list was published. I highly doubt many of you had either. Makes you wonder if some money or favors didn't change hands to get it on the list for some cheap publicity.
4. Tron 2 Tr2n. TRZ. TRL. TAFKAP. Whatever it ends up being called, movie geeks of a certain age have waited an eternity for this project to come to fruition and no doubt the surprise appearance of a custom-made teaser trailer at Comic-Con starring none other than Flynn himself caused an explosion of IMDb hits from disbelieving fans seeking reassurance.
3. Harry Potter and the Half-Blood Prince An increase in hits probably followed after Warner Bros. batshit looney decision to push the movie's November release back to Summer 2009. It's for your own good y'know, not because the studio forgot to cover it's ass during the writer's strike...
2. Twilight Proving teenage girls and women with perverse ideas of romance use the internet too.
1. The Dark Knight No surprises here really. With the movie's viral marketing campaign in full swing almost a full year before the movie was actually released and Heath Ledger's tragic death early in the year there was no end of reasons why people would be logging on to IMDb for facts and figures about the biggest movie of the year.
Your Daily Blend of Entertainment News
Thank you for signing up to CinemaBlend. You will receive a verification email shortly.
There was a problem. Please refresh the page and try again.