Ice Age 3 Drowns Finding Nemo At Foreign Box Office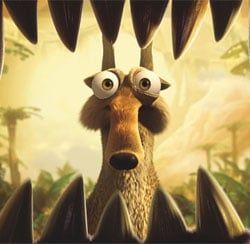 Audiences can be ridiculously unpredictable at times. Movies like The Dark Knight and Transformers 2 are expected to get huge ticket sales but when The Hangover became the biggest R-Rated comedy of all time, it was hard not to ask why. Knocked Up? 40-Year-Old Virgin? Porky's? Caddyshack?
Now it turns out that Ice Age: Dawn of the Dinosaurs has become the biggest grossing animated film of all time overseas, having taken in $551.4 million of ticket sales. Did you see that coming? According to Variety, a lot of this massive amount can be contributed to the sale of 3-D tickets, which are often a few dollars more than a regular ticket. Ice Age 3 beats out the far more lovable Finding Nemo, which held the previous record of $524.9 million.
Forecasts show that Up could possibly surpass Ice Age 3 in the coming weeks, and as a lover of film, I can only hope that this comes true. On top of all of this, Ice Age 3 is also the top grossing film of the year overseas so far. This will definitely change once Harry Potter gets a couple of more weeks at it, but even so, my idealistic view of foreign culture is officially tainted. Hey foreigners, I thought you guys only liked good movies?
Your Daily Blend of Entertainment News
Your Daily Blend of Entertainment News
Thank you for signing up to CinemaBlend. You will receive a verification email shortly.
There was a problem. Please refresh the page and try again.