Ice Cube Project Chrome And Paint Picked Up By Disney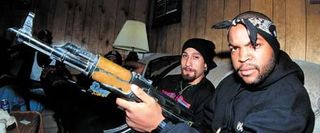 If ten years ago you used the terms "Ice Cube" and "Disney" in the same sentence, you'd undoubtedly think that the studio was producing a family film about two zany animals stuck in a freezer...or something. But now, popular rapper/actor/producer Ice Cube will be teaming with Disney to get his film Chrome and Paint in shape for the big screen.
Don't adjust your TV sets, dear reader, I did say that Disney will be taking on an Ice Cube project, and not just that. This won't be an Are We There Yet?-style family jaunt, but rather a gritty look at the car-culture of South Central LA, in which Cube says that there will definitely be some people dead by drive-by. THR has the news saying that this is a move by new studio heads Rich Ross and Sean Bailey to spread the studio's wings and start taking on some more diverse projects. But don't expect to see the traditional Walt Disney castle flash on screen at the film's open. More likely a genre arm will be created under the Disney banner to take projects like this through production.
Cube will also be stepping into the director's chair, making his return to the helm for the first time since 1998's The Player's Club. Chrome and Paint could be an interesting look at the gang lifestyle the Ice Cube was a part of in his early years, or it could also be Fast and the Furious with more guns. We'll have to let this one play out before we start judging.
Look for more Cube news as 21 Jump Street heads into production, in which he will be playing the young Narc officers' captain.
Your Daily Blend of Entertainment News