Ice Cube In Talks For A New Friday Movie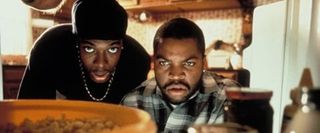 Long before he entered the "godawful family films" phase of his career, actor/rapper Ice Cube was making a name for himself with a little 1995 flick called Friday. Ice Cube both starred in and co-wrote the comedy about two unemployed slackers who have to scrounge up the $200 they owe to a drug dealer by the day's end. Friday also introduced the world to the shrill-voiced splendor of Chris Tucker, who played Smokey and went on to roles in movies such as The Fifth Element and the Rush Hour series. Now it seems they may be trying to get the gang back together. Deadline says Ice Cube is in talks with New Line to write, star in, and produce a brand new Friday movie.
If it comes together, this would be the third Friday sequel, following up on 2000's Next Friday and 2002's Friday After Next. Cube may also direct the film if everything comes together, but no dotted lines have been signed as of yet. If so, it would be the first time Ice Cube has directed one of the Friday movies, but it makes sense. He's already acting, writing, and producing, so it seems like a logical next step.
One unanswered question is whether or not Chris Tucker might return in the role of Smokey. If so, it would be the first time he's appeared in the Friday series since the original. A quick glance at Tucker's IMDb page suggests his career hasn't exactly been on fire since he appeared in Rush Hour 3 back in 2007, so you'd think he'd jump at the chance. A TMZ report claims that Tucker is in talks about it, but Deadline offers an explanation as to why Tucker might not be eager to sign on for what seems like a no-brainer. Apparently Tucker has found religion these past few years, and is hesitant to return to the role of pot aficionado Smokey, as it is contrary to his beliefs.
Your Daily Blend of Entertainment News
Thank you for signing up to CinemaBlend. You will receive a verification email shortly.
There was a problem. Please refresh the page and try again.