Idris Elba Replacing Tom Cruise To Star In Guillermo Del Toro's Pacific Rim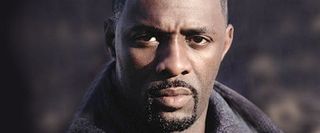 Though Tom Cruise was reportedly interested in the role a few months ago, Guillermo del Toro has finally settled on the actor to star in his next film Pacific Rim, and it's a name not nearly as famous as Cruise's but twice as exciting an actor. According to Deadline Idris Elba still be starring in the film, which stars shooting in November with Charlie Day also part of the cast.
It's possible this is the project Elba was referring to on Twitter when he set off a rumor frenzy that he could star for Quentin Tarantino in Django Unchained. But Deadline reports that Elba really was a frontrunner for the role until Tarantino decided he wanted to woo Will Smith for the part; now that Smith has apparently passed, they predict Jamie Foxx will get the role, and a tweet from Jeff Goldsmith, who's had a lot of inside information about Django Unchained so far, seems to confirm it. Talking about the pros and cons of Foxx starring in the Tarantino film will be another post entirely, so stay tuned for when that news gets totally confirmed.
As for Pacific Rim this is yet another huge project for Elba, who starred in Thor earlier this year and is currently shooting Prometheus with Ridley Scott. That's a pretty impressive run for an actor who a few short years ago was known best for his role as Stringer Bell on the cultishly adored HBO series The Wire, and who probably would rather you didn't remind him that he starred in Obsessed just two years ago. Hollywood is putting a lot of faith in him as an action hero, and Django Unchained or no, we've got plenty to look forward to seeing from him in the next few years.
Staff Writer at CinemaBlend
Your Daily Blend of Entertainment News
Thank you for signing up to CinemaBlend. You will receive a verification email shortly.
There was a problem. Please refresh the page and try again.