The Incredibles 2 Is Bringing Back One Important Collaborator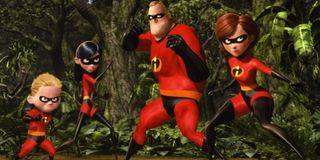 We're all eagerly anticipating the return of The Incredibles. The 2004 original came during a time when Pixar were at the peak of their powers, as it was the follow-up to Toy Story 2, Monsters, Inc. and Finding Nemo. And not only did it match this triumvirate of animated perfection but, for some people, it topped it. But will The Incredibles 2 be able to match the original's quality? Obviously that's still up in the air. But composer Michael Giacchino has now joined the party to try and replicate The Incredibles' success.
Brad Bird, who is definitely writing The Incredibles 2 and is hopefully going to be directing it too, revealed that Michael Giacchino is composing the music for the film in possibly the most modern way possible, posting a GIF of Giacchnio signing the contract to his Twitter account.
Obviously you want to check out this momentous cinematic occasion, which took place at 2:18 p.m, on November 25, 2015, below.
It's not really a surprise that Michael Giacchino was sought after by Pixar for The Incredibles 2. Not only was his score for the first film a rousing homage to the 1960s, specifically spy films, but he also found himself dutifully rewarded for his efforts as he picked up the best score awards at the Los Angeles Film Critics Association, BMI Film & TV Award, ASCAP Film and Television Music Award, Annie Awards, Las Vegas Film Critics Society Award and Online Film Critics Society Award. Not too bad for his first ever Pixar film.
That was only the beginning for Michael Giacchino and Pixar's working relationship together though. Giacchino has written the score for Ratatouille, Cars 2, and Inside Out, while his greatest professional triumph came courtesy of his work on Up, which resulted in him winning an Academy Award for Best Original Score. Want to know why? Then just check out the these nine minutes from Up, which even though it's a mixture of the opening and the end is still almost certainly going to make you weep.
All in all this is great news for Incredibles fans, because it's impossible to imagine Mr Incredible, Elastigirl, and their superhero offspring, Dash and Violet, getting up to mischief without Michael Giacchino's pulsating score. We're still a bit away from actually hearing it though, as The Incredibles 2, rather depressingly, will only be out in June 21, 2019.
Your Daily Blend of Entertainment News
Thank you for signing up to CinemaBlend. You will receive a verification email shortly.
There was a problem. Please refresh the page and try again.