Interstellar: The Hilarious Low Tech Way They Made Anne Hathaway Float In Space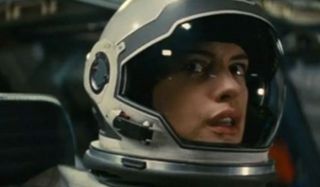 Ready that Oscar, because in Instellar, Anne Hathaway doesn't only do her own stunts, she also does her own practical effects. That includes "floating" in zero gravity. And you can see just how she did it in this video.
When appearing on the British talk show (or chat show) The Graham Norton Show, Anne Hathaway was game to give audiences a peak of one of the many ways she achieved the look of being weightless in space for Christopher Nolan's new movie. Co-star Matthew McConaughey began the explanation, saying, "There's a few different ways. Sometimes, we were on a wire 80 feet in the air. Sometimes you were on the end of a gimbal, like a seesaw." Then he turns to Hathaway, who confesses:
First off, cheers to Anne Hathaway for being game to center herself to re-enact some of her most challenging moments in Interstellar. And props to her stylist who thought ahead to drape the star in the most elegant jumpsuit this side of Beyonce. Without pants, this weirdly wonderful TV moment may never have occurred. Lastly, cheers to the crew at The Graham Norton Show for cueing the 2001: A Space Odyssey score. It all culminates into this bit of batty perfection.
It's also nice to see a bit of cheek put into the promotion of another Christopher Nolan movie that looks to be deeply serious.
Penned by Christopher Nolan and his brother Jonathan, Interstellar marks the director's follow-up from the close of his Dark Knight Trilogy in 2012 with The Dark Knight Rises. Far from the world of caped crusaders and blood-thirsty revolutionaries, Interstellar instead offers a hard sci-fi adventure about a group of explorers (Anne Hathaway and Matthew McConaughey) who "use of a newly discovered wormhole to surpass the limitations on human space travel and conquer the vast distances involved in an interstellar voyage." So says the film's official synopsis.
With a reputation for blockbusters and critical acclaim, Nolan's latest had great buzz ahead of its press screenings. But with the lifting of review embargoes came a wave of mixed and negative reviews. Our own Eric Eisenberg wrote, "Nolan's aesthetically beautiful, large-scale sci-fi drama is admirable in its ideas and style, but lacking in its storytelling and execution."
Nonetheless, Interstellar seems poised for a big weekend, thanks to the rampant fandom Christopher Nolan inspires. But can a solemn tale of space travel beat out the latest Disney animated adventure Big Hero 6 at the box office? We'll soon see.
Interstellar opens in limited release on November 5th, and expands on Friday, November 7th.
Your Daily Blend of Entertainment News
Staff writer at CinemaBlend.
Your Daily Blend of Entertainment News
Thank you for signing up to CinemaBlend. You will receive a verification email shortly.
There was a problem. Please refresh the page and try again.