Interview: Director Max Winkler Mines His Past And Comes Of Age With Ceremony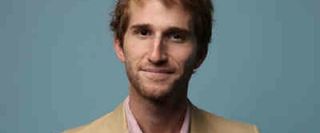 Explaining why would require admitting that we are fallible and fairly disorganized people, so I'm just going to tell you that Eric Eisenberg and I both wound up interviewing Ceremony director Max Winkler, just a few weeks apart. It was actually my second time to talking to Max, having met him and two of his film's stars at the Toronto Film Festival last September (you can read that interview here), so you could really say my conversation with him was superfluous. But Winkler is a great guy to talk to, happily doing the publicity circuit to promote his first movie, owning up to all the ways Ceremony's fast-talking lead character resembles his younger self, and talking about the many struggles he faced in getting the film made, even with the benefit of being the son of bona fide Hollywood legend Henry Winkler.
So here you have both my and Eric's interviews strung together, for maximum fascinating Winkler content. In Ceremony Michael Angarano star as a self-satisfied, egotistical young man named Sam who takes it upon himself to crash the wedding of his former lover (Uma Thurman), who is perfectly happy to move on in her marriage to a documentary filmmaker (Lee Pace). Dragging along with him his obedient best friend Marshall (Reece Thompson) Sam makes any number of mistakes, primary among them assuming he's actually as cool or even smart as he thinks he is. Eric and I talked to Winkler about developing that character as not necessarily the best guy, getting Uma Thurman on board his tiny project, developing the friendship at the center of the film, and getting a significant update on all the projects Winkler is eyeing for his next work. Ceremony is currently available on-demand and opens today in theaters in New York and Los Angeles.
Have you been taking the movie around to colleges since it premiered at Toronto? It seems kind of like a college-y movie.
No, I think we're going to start now with NYU, we're gonna do USC, and Columbia. I didn't know that the movie would sort of appeal for that demographic, that sort of young audience, which is essentially me, and you. It's pretty fickle and angry sometimes. [The movie is] pretty sort of sentimental and emotional at its core, so I didn't know. It seems like it registers really well with sort of young romantics.
You've admitted that the movie pretty autobiographical. Do you look at this character you've written and kind of cringe at your own old behavior?
Yeah, I get a little tingles when I watch parts of it, because it is so, sort of personal, and it's hard to sort of distance myself from it. You know I haven't actually seen the movie since I finished mixing it.
Really?
Yeah I can't watch the movie, I get too nervous. I get nauseous. But it feels like sort of a good time capsule.
Given that it was a story that's so close to you, and you wrote the screenplay, was there ever a point where you thought it was too personal and someone else should direct it?
No, never, never. I despise writing in general, but yeah I love writing the stuff that I direct. I never had any intention of doing anything else. The only other reason I've ever done it is because, maybe an amazing opportunity, or to have some sort of financial security. You can't really make a substantial living making movies of this size all the time. And so for me it's always been the only way.
Well since Toronto when you had this good premiere and then you got picked up for distribution, have those opportunities been coming to you to do other people's stuff?
Yeah there have been, there have been very nice opportunities, none that I've taken on. I feel totally lucky and happy. I think a lot of young directors feel this way but you sort of like have a biological clock that starts ticking and you like feel like you aren't anything until you direct a movie and you need to find yourself and this is how you do it. I was really hard on myself about that. I'm sort of a delusional in the sense of, I was just gonna graduate from school and just like prance onto a film set and have a movie crew waiting for me to make my 8 ½ or something, which is completely insane.
It seems like growing up around the movie industry the way you did, you'd be able to get rid of those illusions?
No but you're still a romantic, there's still such a romantic thing about making a fucking movie. It's so beautiful, there's such an allure to it, still. You never realize or think how hard it is until you actually make one
Obviously the movie worked out really well in the final product but when you were making it were there those moments when you were just like, "I am falling on my face and I have to pick myself up and change this."
Never while we were making it, only with finances and casting disputes and people dropping out of the movie. And I remember two of the actors dropped out of the movie on my birthday, the day before I was set to come to New York to start pre-production officially. I was at my birthday dinner and I got two separate calls from my manager telling me this news. It was the only time I felt bad for myself, and I quickly picked it up myself. That night I called my mom and I wanted to cry kind of and I was just like, "What the fuck, mom, what do I do?" and she just said, "You just gotta keep going."
The next day I flew to New York like a hobo and when I came to check into my apartment in New York, the apartment had been given away to someone else so I'm literally like walking down the street without funding, without a cast, without an apartment, like, sullen and traveled, and insane, and I literally got a call while I was walking down the street that Uma Thurman read the script and I was like, "Oh my God," I went to him, and he said you have to go to her house now. I went straight to her house with my luggage.
What was the pitch, what got her interested? Was it just the quality of the role?
I don't know. She read the script and she really related to it. And Uma in real life is kind of close to that character, just in the sense that she's really sensitive, she's really neurotic, in the most beautiful way. She's also at the same time completely romantic. We're so used to seeing her with a samurai sword, literally decapitating like five hundred ninjas, that you forget the real. We sat and talked out there and we're just sitting on her balcony and having a long talk about the character and I looked at her and thought, "If I can capture she's talking like this right now, running her hands through her hair and smoking a cigarette, and just sort of talking about her future, and the world and stuff like that, then the movie will work."
Did you feel challenged to present a different take on the coming-of-age story of the hyper-articulate young man? It's a story that's been told many times.
No because the point is the young man isn't that articulate, I mean he isn't that smart.
Well he just talks constantly.
He just talks but he actually isn't talking about anything, he's actually just like playing a part. He's like playing this Cary Grant figure. It's about a young guy who thinks that he's in a movie, but actually everyone else in the movie is sort of just cutting him down, including me as the director, the whole movie. So it's like he's not Max Fischer, you know what I mean? Because Max Fischer is seen in such a beautiful light and is one of the greatest characters ever, and it works out for him always, but this guy, it doesn't. It's like, this guy thinks that he's in Rushmore but he's actually not, he's in real life, and he can't pull it off. He's a not quite original, young man who's scared shitless of who he really is.
Do you think now that you've tackled your younger self in a film, you can move on and leave that guy behind?
Well the next movie is really not autobiographical at all and it's kind of a real departure. I think tonally it's similar to some of the more dramatic parts of Ceremony, and I'd love to cast a lot of the same people from Ceremony. Ceremony is about that time when you look back on things you wore and things you did and what you said and you just like, fucking cringe.
When you were crafting Sam as your lead character, did you find yourself being careful trying to not make him too unsympathetic, or do you think, possibly more importantly, that a lead character doesn't have to be sympathetic?
I don't know. I don't think about it. For me, I think it's very clear right off the bat, especially in the casting of Angarano, that you can immediately tell that he's just pretending. He's trying so hard to be an asshole, but actually he's just a kid who is afraid to be himself – and the mustache and the hair, all that, he's so clearly faking it. And for me, he believes in the myth of himself rather than who he actually is and I think you feel bad for him. I never thought of Sam as unlikeable, I thought of him as somebody who is afraid to be himself and who hasn't been completely honest with himself lately. You look at a character like Jeff Daniels in The Squid and the Whale, by all means he's not a likeable character, he's not, by standards, a heroic character, but you love him because you feel bad for him. And he's cast so smart by somebody who can get away with a lot of things that another actor can't. Angarano has such an innocent face and he's such a kind-hearted kid that he can kind of get away with a lot of things that I think other people can't.
The dynamic between Sam and Marshall is terrific, and I love the line where they're fighting and Marshall says, "I looked up to you," and Sam replies, "You're two years older than me!" Off the page, where did this friendship start?
[laughs] I just thought it would be sadder if Marshall imagined this relationship in high school with Sam, this tall [puts hand close to the ground to indicate hight] and Marshall this tall [raises hand higher] still following him around. It just seemed like the extra sort of nail in the coffin of Marshall's depressing nature. I'm glad you really liked that, nobody's ever told me that before!
Marshall is just a fantastic character, with terrific depth, just the fact that he had this incident two years ago that happens to people in cities every day, and he still holds on to it. Can you talk about developing the psychology of a character like that?
He's my favorite character in the movie, as written. Marshall is kind of like the Nick Carraway in the sense that he's sort of observing everything, and he's sort of the audience's eyes in the fact that he's learning all of this insane shit throughout the movie. And Marshall's just a really close character to my heart. I know certain people like him, and just the idea that he sort of identifies himself with that case, it's tragic how he just talks about it with everyone before they even ask, it's just this really funny quality, I think. He's also really the only one who truly loves Sam for who he is, I think. They have such a deep connection that it just kills me. I really love it.
You can almost make parallels between Sam and Marshall's relationship and an abusive relationship. Is it just a matter of low self-esteem?
It's like What's Love Got To Do With It [laughs]. No, I think he just, at a very young age, made a decision that he was going to idolize this guy and just decided that he was going to, until finally at the end of the weekend he's had too much. I think Marshall is the type of character that is a leading man, but doesn't know he's a leading man. Sam thinks he's a leading man, but he's not a leading man at all. Marshall's could be great and just doesn't know it, Sam should be the supporting character. That's why I thought it was important to cast Marshall as a naturally sort of handsome, confident guy, which Reece [Thompson] is, he's really handsome and super confident, and I thought that would be more interesting than just casting the nerd character.
I also wanted to take the opportunity to ask about some of your upcoming projects. It's been a while since we've heard about The Adventurer's Handbook. What is the status of that?
We went off to make Ceremony, Jonah went off to make other movies. Jonah is my best friend and someone who I think is an incredible actor and his performance in Cyrus is one of my favorite performances of last year. He's somebody who I'd love to make a movie with, whether it be Adventurer's Handbook or another movie. I hope we get to make Adventurer's Handbook soon because I think it would be really fun for all of us. I also just finished another movie that I'm really excited about and would like to make as soon as possible.
That you will be directing?
Yes
Can you talk a little about the plot or characters?
Not yet, but soon
Where is it in development?
The script is done.
Getting back to The Adventurer's Handbook, are Jason Schwartzman and Akiva Schaffer still attached?
I hope so, yeah. Akiva is tremendously talented and somebody who I can't wait to see what's next. I hope it's this one.
Another one of your projects, First Man, recently cast its lead in Johnny Knoxville. Can you talk a bit about that story and Knoxville's casting?
Yeah, of course. [Matt] Spicer and I have always been interested in what would happen if Todd Palin became the first man. It's kind of a scary situation, but making him a much more likable character. Johnny Knoxville has such an incredible humanity to him when you meet him. He's so warm and so funny, and he can sort of get into trouble and you sort of forgive him immediately. We're a huge fan of his movies and it seemed like, if it was going to be something that Spicer and I weren't going to direct, it seemed like the perfect fit to work with him.
Is there a director attached?
No, we have to write the script first.
Another project I've read about is The Ornate Anatomy of Living Things. Has there been any progress in regard to that script?
That was the first script that Spicer and I ever wrote – the month after we both got out of film school and we were both having nervous breakdowns about trying to get real jobs and we were just like, "Let's just try and write a movie." We thought it would be our Bruce Almighty, but everyone else thought it was really indie and quirky and stuff. I think we thought it would be the movie we could sell and never have to work again. I'd love to make that. It was the first project that Jason Reitman and I worked together on when we developed a script together, and it was going to be the first movie I directed and I'd love to get back to it.
Your Daily Blend of Entertainment News
Assistant Managing Editor
NJ native who calls LA home and lives in a Dreamatorium. A decade-plus CinemaBlend veteran who is endlessly enthusiastic about the career he's dreamt of since seventh grade.