Interview: John Woo On Red Cliff And Wanting To Make A Musical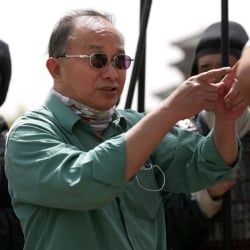 John Woo is a master of action movies, of guns and explosions and hardened criminals and the things that defined 90s male-centric filmmaking. So what happens when he goes back to a past without handguns? Red Cliff, Woo's immense epic recounting a famous event in Chinese history, a David and Goliath story played out across thousands of warships, fireballs, and one very well-timed tea ceremony.
We talked to Woo at a roundtable interview a while back, in which he graciously talked about all the reasons he's returned to make films in China (his last English-language film was 2003's Paycheck), working again with Tony Leung, and how what he really wants to make is a musical. Yes, a musical. Even several decades into his career, John Woo is clearly still full of surprises. You can see one of them in Red Cliff, in theaters now.
Are there any other genres you'd like to work in? You've said in the past you wanted to make a musical, correct?
Yeah, a musical, yeah! I have a script for a musical for 12 years that I paid for with my own money. I still want to make a musical. It's an original, not from any well-known existing musical. It's an action musical. (laughs) It's true! We have a very good script, I wanted to make it, but it's hard to interest studios to make a musical right now. It's in English. I love All That Jazz, Singin' in the Rain, West Side Story. I miss musicals.
How did you decide to cut the movie for the American audience?
We had made a decision before we started shooting. We realized the Asian audience, especially the Chinese, are all familiar with this part of history. We could spend a lot more time developing the characters and tell more of the story because the Asian people love to see more. American audiences are not as familiar with this part of history and the characters, so we decided to focus on the main storyline and the key characters. The distributors from Europe said that Western audiences prefer to watch a foreign film with subtitles but not longer than 2-hours-and-fifteen-minutes. So we decided to make two versions, one for the Asian market and another for international, including Europe and United States.You have to make sure the people not as familiar with our history can understand the story and background so they can get into the film right away.
What did you rediscover about making films in China that you couldn't do in Hollywood?
It's pretty easy to make a film in China. A few years ago I just walked into the office and let them know I wanted to make a movie called Red Cliff and they were so excited. They said, "Let's do it!". It's that simple. We approached them without a script, just an outline, and that was it. In Hollywood they take a much longer time to set up a project, it's hard to even make any decision because you have to listen to so many people. You take a lot of meetings. You have to know how to talk. I'm not a good talker. They want to hear what your idea is. In China they're all familiar with this part of history so there's no problem. We also had huge support from the government. We had the Army supporting us, all the soldiers are real soldiers playing the fighters. We took some time to train them but they are already dedicated.
The government really loves movies, so to shoot the movie in China gave me a lot of good inspiration. I could shoot the movie in a very beautiful landscape in a country I love! Everything is so modern right now. They have a huge soundstage the size of Universal Studios. They have 16 soundstages, all kinds of modern equipment and facilities. I was happy making this film in China.
What was it like working with Tony Leung again?
Tony's a good friend and he's a man with a great heart. He's getting more mature, more charming, and more charisma. He's still able to do most of the actions himself, no matter how tired he was. He'll just do it. He's so dedicated. It's nice to work with someone you know as a friend. He gave his performance, and he took care of the other actors. He's a big star and he had no attitudes. Sometimes I got a shot then told him to go back to the trailer to get some rest. He's wearing a very heavy costume, 20 pounds, on a very hot day, but he didn't go. He wanted to stay on the set and didn't take the helmet off. It made the actors feel so comfortable, 'cause he knew I was busy on something else, so he helped me take care of them.
What do you think Western audiences will get from the film?
I prefer watching this as a movie instead of a historical film. I prefer Western audiences to watch it as a movie with nothing to do with history, that's why I made so many changes. It's difficult to understand the meaning of the three kingdoms, between Xiao Qiao and Cao Cao, it's a lot of work to understand that. I'm trying to make the movie more international, but have the Asian audience still feel this is the story they knew and characters they remembered.. I also increased the female roles which weren't in the book, to show that classical women had the beauty but also the great personality. Beneath their gracefulness they were very brave and intelligent just like the women nowadays. Because it's a war movie I tried to stress that there were no winners, a kind of anti-war message.
You are known for your well-orchestrated gun ballets, for doing that kind of action. What made you decide to make such a change by doing a historical epic?
I wanted to make this movie for over 20 years. I grew up with the story and really liked the challenges and the theme of the weakest beating the strongest. It's very encouraging. . I also knew that the Western audience was so familiar with our kung fu movies. They had seen the beautiful Hero and Crouching Tiger, but kung fu is only part of our culture. I also wanted people to know that football actually started in China almost 3000 years ago. It was approved by the world football society. In old times they would use the game to train soldiers for speed, teamwork, to train the body. Football started in China. When I screened the film in Europe they said, "You put a modern game in the film!" I said it's not a modern game, I let them know that Cao Cao the prime minister loved the game and used it to train the soldiers. One of the biggest reasons I did this movie was to show the other side of China, the spirit, the wisdom. That's why I made so many changes. It's not just a historical documentary for The History Channel. This is a film.
Your Daily Blend of Entertainment News
Staff Writer at CinemaBlend