The Interview Just Keeps Printing Money Through OnDemand Buys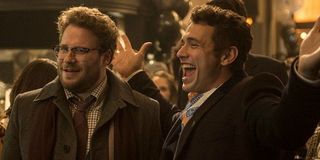 Despite the fact that the film essentially caused an international incident, Seth Rogen and Evan Golberg's The Interview continues to rack up quite a hefty sum for Sony. In fact, it has now amassed $31 million from it's On-Demand release platforms - which, all things considered, is an unprecedented success for the controversial comedy.
According to The Wrap, The Interview has now grossed a total of almost $34 million on all of the platforms, the updated figure coming after it was announced that the movie had amassed $2.9 million at the box office so far in cinemas. Of course, this was only a limited release, because in the end The Interview only played in 581 smaller and independent theaters. The film has generated most its cash thanks to the fact it has been rented or purchased online through cable, satellite, and telecom providers over 4.3 million times since it was released right before the Christmas holiday. This is way more than any other movie in history on these formats - which is most definitely a win for the movie - and these downloads account for 91 percent of the comedy's current grosses.
So could The Interview's digital success spark a new distribution trend in Hollywood? Probably not. One can argue that the movie only achieved its relative success due to the unique and hugely controversial circumstances under which it was released. Plus, one must consider the fact that the film is still going to have a hard time actually making back its budget and advertising costs. At the current rate, it looks like The Interview still won't actually recuperate the $45 million budget that Sony spent on the movie, not to mention the similar total that was put into marketing and promotion. Looking at this, one can imagine that most studios are likely still going to be skeptical about releasing their larger films largely through VOD platforms in the future, as there simply doesn't appear to be enough revenue available.
Interestingly, before all of the hullabaloo surrounding the theatrical release of The Interview overwhelmed its planned marketing campaign and left Sony scrambling to simply get the film out in any form, experts had predicted that it would amass around $80 million at the box office by the time that it was done with its run. Because of this controversy, Sony officials have taken the stance that any amount that the film grosses is now better than nothing.
The Interview - directed by Seth Rogen and Evan Goldberg as their follow-up to 2013's This Is The End - is now available for purchase and rental on many digital platforms, and is still available to see in theaters in limited release nationwide.
Your Daily Blend of Entertainment News
Thank you for signing up to CinemaBlend. You will receive a verification email shortly.
There was a problem. Please refresh the page and try again.