Interview: Nowhere Boy's Kristin Scott Thomas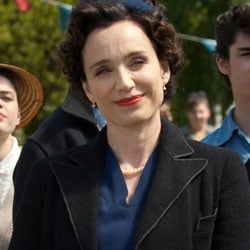 I think it's safe to say that everyone knows The Beatles, but it's probably far less likely that you know what John Lennon's teenage years were like and even more unlikely you know who Mimi Smith. Lucky for you, Nowhere Boy focuses on just that.
John grew up under the care of his aunt and uncle, Mimi and George Smith, not because his mother had passed but because she was simply absent from his life. When his uncle George passed away, it was John's mother, Julia, he ran to, not Mimi. Julia had a passion for music and a fun-loving spirit, but it was impossible for John to ignore the fact that she had abandoned him. On top of trying to rekindle that relationship, there's also growing tension between John and Mimi, who's concerned for his welfare and simply misses him.
Had anyone but Kristin Scott Thomas played the role of Mimi, this would have only been Aaron Johnson's film. Scott Thomas portrays Mimi with such powerful reserve and honesty, she turns the character into an ever-present force, almost acting as John's conscience when not on screen. And when she is on screen, wow can she get tough.
Scott Thomas in Nowhere Boy must have had the same effect on me as she did Johnson's character because going into our interview, I felt quite obligated to sit up straight, be on my best behavior and even put on my glasses. Yet in person Scott Thomas is as warm and friendly as they come, and was eager to discuss her experience working on the film. Having known little to nothing about The Beatles, Nowhere Boy turned into an enlightening crash course in Lennon's story. Check out everything Scott Thomas had to say about her connection to Mimi, admiration for Johnson, her other new film, Leaving, and much more in the video interview below.
Your Daily Blend of Entertainment News
Staff Writer for CinemaBlend.