Intruders Trailer Scares Clive Owen With Demons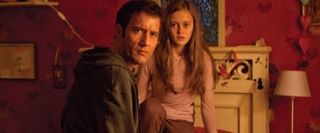 People seemed exciteda about director Juan Carlos Fresnadillo back in 2007, when he popped up on the mainstream radar as the mind behind 28 Weeks Later. So of course, he's done nothing since. Rumored for various high-profile projects it seems like he's ended up helming a low-budget horror thriller with Clive Owen instead. It's called Intruder and here's the movie's first ever teaser trailer.
The film is supposed to be about an 11-year-old girl dealing with demons who keep reappearing to torment her family, but this teaser doesn't tell you even that much, not really. For me it doesn't sell the movie either. A guy walks into his daughter's room, forgets to turn the lights on and they whisper to each other and look sort of scared. Maybe I've just been desensitized by all those photos of the room where they killed bin Laden, but I need more than this to get interested in another horror film.
This is only the first teaser though, and all the images which flash by at the end hint at something better. In theory Intruders is set to show up in American and UK theaters on October 7, 2011. Expect a more detailed trailer as that date draws closer.
Your Daily Blend of Entertainment News
Thank you for signing up to CinemaBlend. You will receive a verification email shortly.
There was a problem. Please refresh the page and try again.