Isabel Lucas Will Play A Femme Fatale In Careful What You Wish For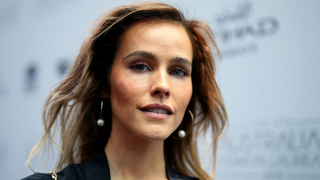 (Image credit: Don Arnold / Contributor)
Australian actress Isabel Lucas seems right on the verge of breaking out. After winning some 'promising new talent' type awards in her native country, Michael Bay plucked the beauty from down under and put her in the absolutely dreadful Transformers: Revenge of the Fallen. Good thing for Lucas her part was small enough to be all but forgotten in the overlong sequel, and instead she can start pretty much fresh with American audiences with her upcoming high profile releases that actually might require her to do some acting.
On top of the much delayed remake of Red Dawn, in which she'll co-star with Thor (Chris Hemsworth) and Peeta (Josh Hutcherson), she also has a role in Terrence Malick's followup to To The Wonder called Knight of Cups. Well, if she doesn't get cut. Lucas continues to add roles, taking the lead in the thriller Careful What You Wish For written by by newcomer Chris Frisina (whose credits only include being a consulting producer on Pop Up Video and one short film) and directed by Elizabeth Allen.
Allen is coming off a mild success with Ramona and Beezus, her second feature after Aquamarine, and her recent work on TV series like The Vampire Diaries should have prepared her well for the sexier subject matter. Careful What You Wish For is about an awkward high-schooler who begins having an affair with the wealthy neighbor's wife Lena (played by Lucas). And after a serious crime shakes the small vacation town, Doug, the boy, not only uncovers a dangerous secret but also becomes the prime suspect.
How very noir of them. On Lucas' casting, Allen said,
Sure she's gorgeous but I haven't seen much to suggest that Lucas can handle being the femme fatale in a film being being billed as "reminiscent of Basic Instinct and Body Heat but, like I said, she's got a lot on the way to start convincing me otherwise. Careful What You Wish For is also seeking two other "A-list stars" for the project, one presumably to play the role of Doug. The film is supposed to start principal photography in the spring of 2013.
Your Daily Blend of Entertainment News