It's Official, Cars 2 Is Pixar's First Bad Movie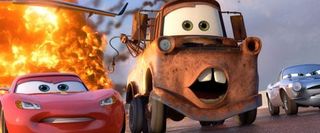 Tomorrow will be a dark day for movie lovers. On Friday, June 24, 2011 the most impressive winning streak in Hollywood's history will come to an end with the release of Cars 2. It'll be Pixar's twelfth movie since they first began releasing them with Toy Story in 1995, and it's also the animation studio's first bad one.
With 58 reviews in, Cars 2 currently has a 38% score on the review compiler Rotten Tomatoes. As I type this it's sinking further. Any hope that this sequel might drift high enough to pass the 60% mark necessary to certify it as fresh, has now vanished. When you wake up tomorrow morning, Cars 2 will have a decidedly rotten score.
This isn't some conspiracy by Rotten Tomatoes, it's coming up negative pretty much everywhere else too. On Metacritic it currently has a 55/100 and on pretty much every other review compiler currently in existence, the movie's average score is even worse.
For my part, I don't think it is a bad movie. I'm one of the very few critics who submitted a positive Cars 2 review to Rotten Tomatoes. Yet my defense of it is only half-hearted, my review a mixed-positive at best, and even I readily admit that this is definitely Pixar's worst effort yet.
The numbers back that up pretty strongly. Before Cars 2 the lowest Rotten Tomatoes score any Pixar film has ever received was the 74% the first Cars ended up with in 2006. It shouldn't be a surprise that making a sequel to their worst film might result in their first bad one, but Pixar's track record has until now warranted confidence. Aside from the two Cars movies no Pixar movie has ever received a Rotten Tomatoes score lower than 90%. Here's a breakdown of how their other movies have scored with critics over the years:
Not only is Cars 2 set to become Pixar's worst movie, it could end up as one of the worst reviewed computer animated movies of all time. DreamWorks Animation's worst reviewed movie for instance, is Shark Tale, which earned a dismal 36%. Sony Pictures Animation's worst reviewed movie is Open Season with a 47% score. 20th Century Fox backed Blue Sky Studios has made six computer animated features, and their worst reviewed movie is Ice Age: Dawn of the Dinosaurs with 45%. With its current RT score of 38% and dozens of reviews still to be turned in, Cars 2 stands a very real chance of ending up below all of them.
In some sense, the reviews Cars 2 is getting may be unfair. Audiences and critics have come to expect the best from Pixar, so when they turn in something less than, the reaction is sure to be much more pronounced than it would have been were Cars 2 released by hit or miss studios like Sony or DreamWorks. Maybe it is being graded on a Pixar curve, but whatever the reason, for Pixar this is the end of their unprecedented run.
No matter how it has fared on that Pixar scale, it's all but certain that Cars 2 will still do well at the box office. Kids are clamoring to see it and audiences won't want to believe what they hear from critics based on their past love of Pixar's other films. I get it. You can't blame them. We've always gotten the sense that for Pixar, it was about more than making money. I'm not sure I really believe Cars 2 is a cynical cash grab as much as it is a misstep. I want to believe that the people at Pixar still care, and if they still care, this is going to punch them right in the gut.
At least the ongoing internet debate over which movie is Pixar's worst can finally end. Before Cars 2 the argument usually raged between fans of A Bug's Life and Cars, but now we have something almost everyone will probably agree upon: Cars 2 is Pixar's low point.
Let's end on a positive note and celebrate all the great thing Pixar has accomplished during this unbelievable winning streak. Eleven incredible movies in a row, without a single mistake, is an achievement far more impressive than any Best Picture Oscar (which they should have won at least two of by now). So, cast a vote in the poll below for your favorite Pixar film, then hop down in the comments section on this page and tell us why it's your favorite. Remember the good times, it's the end of an era.
This poll is no longer available.
Your Daily Blend of Entertainment News