It's Official: Ian McKellen Set To Return As Gandalf In The Hobbit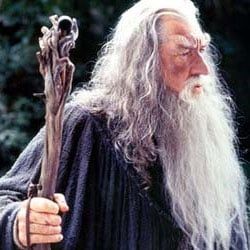 It's nothing but good news today for Lord of the Rings fans. Peter Jackson's adaptation of The Hobbit has finally gotten around to locking up its cast. The last and arguably biggest piece has just fallen into place: After months of speculation and waiting Ian McKellen is finally set to return to Middle Earth as the wizard Gandalf.
THR says McKellen, who played Gandalf in all three of the previous Lord of the Rings movies, has officially signed on to be part of the soon to begin production prequel. This news comes just hours after the announcement that Andy Serkis will be back in his gimp suit to help them motion-capture Gollum. Gollum plays a pivotal role in the story, but Gandalf's role is second only to that of Bilbo in importance.
Gandalf's part in the story is likely to be even bigger than it already is on the page in the book. During the course of the original story Gandalf the Gray eventually leaves, to go about unspecified business fighting dark powers in the forest of Mirkwood. Tolkien never says exactly what he's doing but word is that Peter Jackson's script will show us exactly what he's up to during that time when he leaves Bilbo and the Dwarves to their own devices. That's sure make Gandalf the primary focus of a pretty large chunk of the film, maybe even enough to qualify him as the story's second lead alongside Bilbo.
UPDATE! Ian McKellen has spoken out about his return to Middle Earth. Read his thoughts on joining the cast of The Hobbit: Part 1 right here.
For a complete breakdown of The Hobbit cast so far, visit our preview page in the Blend Film Database.
Your Daily Blend of Entertainment News