J.J. Abrams Responds To Star Wars: The Force Awakens Rip Off Complaints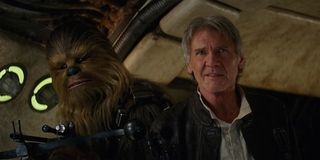 Despite a slew of positive reviews and record-breaking box office numbers, few will claim that Star Wars: The Force Awakens is a perfect movie or a film without flaws. Still, it's fun as hell. One of the biggest criticisms lobbed at J.J. Abrams' Episode VII has been how heavily it relies on the previous films, calling back to the original trilogy and using similar elements and plot points. Some have even gone so far label it a rip off. Well, writer, director, and general mastermind J.J. Abrams has responded to those allegations.
It sounds like J.J. Abrams was prepared for at least some fans to have such concerns, and when he recently chatted with The Hollywood Reporter, he elaborated on why he, Lucasfilm, and the other members of the creative team, opted to go this route. He said:
The moment that we learned that original cast members like Harrison Ford, Carrie Fisher, and Mark Hamill, among others, were coming back, it became apparent that Star Wars: The Force Awakens was going to lean on nostalgia for the original trilogy. J.J. Abrams and company definitely used what came before to build up the new additions—orphan on a desert planet, Death Star #3, and more. Maybe they went a little overboard, but I understand the impulse, and some of the calls of rip off may be a bit harsh.
Now that they've got that out of the way, however, it's going to be interesting to see how the saga moves forward and develops with Rian Johnson's Star Wars: Episode VIII and beyond. With Luke Skywalker and General Leia still alive and kicking, as well as Chewbacca, R2-D2, C-3P0, and more (not to mention Kylo Ren's familial connections), there will obviously still be links to the past and callbacks. There's no getting around that, but hopefully the brain trust at Lucasfilm will use this as a springboard into something new and innovative and take the story in new directions.
We'll see how this all turns out for ourselves when Star Wars: Episode VIII hits theaters on May 26, 2017, and after that with the Colin Trevorrow-directed Star Wars: Episode IX in 2019.
Your Daily Blend of Entertainment News