Will And Jaden's Smith's After Earth Adds The Hunger Games Star Isabelle Fuhrman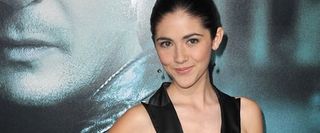 For the next two months or so you might know Isabelle Fuhrmann as "the creepy little girl from Orphan," which is fair-- her performance in that movie, not to mention her face on the truly intimidating poster, are hard to forget. But Furhman has a role in the upcoming potential mega-hit The Hunger Games, and if you see here there you might not recognize her-- she's all grown up now at 14, and looks almost nothing like the little girl who terrorized Vera Farmiga and Peter Sarsgaard. But make sure and get a good look at her in The Hunger Games because Fuhrman is an actress going places-- places that Will and Jaden Smith are also going, as it turns out.
According to THR, Fuhrman has been cast in M. Night Shyamalan's next film After Earth, starring the Smiths as a father and son who crash land on earth 1,000 years after the planet has been abandoned. Fuhrman plays the younger Smith's friend, named Rayna, but since the film is largely about the father and son stranded on a hostile planet, it's unclear how she'll fit into the narrative. Then again, Zoe Kravitz and Sophie Okonedo are both part of the cast already, so there's clearly room for a lot of women in the story who aren't necessarily part of this specific adventure.
Shooting starts this March in Pennsylvania-- which has been home to all of Shyamalan's productions, including The Last Airbender-- and in Utah, with a release set for June 2013. Though it's novel, I suppose, to see Jaden and Will teaming up for the second time after The Pursuit of Happyness, the real question about this film is of course Shyamalan, and whether he can finally make up for a career that seems to have gone steadily downhill in the last few years. Hopefully Fuhrman and all the other actors haven't boarded a sinking ship.
(Isabelle Fuhrman image via Featureflash/Shutterstock (opens in new tab))
Staff Writer at CinemaBlend
Your Daily Blend of Entertainment News
Thank you for signing up to CinemaBlend. You will receive a verification email shortly.
There was a problem. Please refresh the page and try again.