Jake T. Austin Joining Joel Courtney In The Adventures of Tom Sawyer And Huckleberry Finn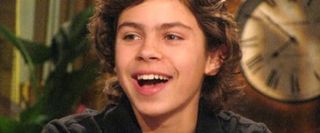 After stunning nearly everyone who saw Super 8 with his naturalistic and immediately winning performance, 15-year-old Joel Courtney moved on to play one of American literature's most iconic characters, signing on to star in a new movie adaptation of Mark Twain's The Adventures of Tom Sawyer, this one called Tom Sawyer & Huckleberry Finn. And though Courtney's inexperienced naturalism-- he'd never been in a film before this summer-- was one of the selling points of his performance in Super 8, he'll be joined in the new film by a veteran of the trade.
Variety reports that Jake T. Austin, star of Disney's Wizards of Waverly Place, has signed on to play Huckleberry Finn, Tom Sawyer's best friend and, you may remember, an iconic literary character all his own. At 15 and 16 Austin and Courtney are both a little older than Tom and Huck are as described in Twain's book, but both look convincingly young enough to get the boyhood themes across well enough. Shooting starts this summer in Bulgaria, and it's unclear if the title change is just to emphasize the friendship between the two boys or that the story will be tweaked from Twain's original book.
Both Tom Sawyer and Huckleberry Finn have been portrayed onscreen dozens of times, with seemingly every generation getting their own take on the characters. Having been 11 in 1995, I've got some vague but fond memories of Tom and Huck, which starred tween heartthrobs of their day Jonathan Taylor Thomas and Brad Renfro. Congratulations, Joel Courtney-- you've gone from unknown to a modern-day JTT in just a few short months.
Staff Writer at CinemaBlend
Your Daily Blend of Entertainment News
Thank you for signing up to CinemaBlend. You will receive a verification email shortly.
There was a problem. Please refresh the page and try again.