Could Boyhood 2 Work? Here's What Ethan Hawke Thinks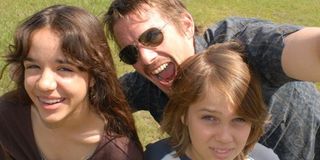 Conventional thinking dictates that for a film which experienced bountiful buzz and awesome accolades like Boyhood, a sequel of some kind would be inevitable. Of course, the Richard Linklater drama was anything but conventional, so that mode of thinking may not be applicable in this case. Or is it? In a recent interview, star Ethan Hawke gave his thoughts to the idea of sequel.
Sitting down with Collider, Ethan Hawke weighed in on the notion of a sequel film; especially after director, Richard Linklater recently wavered on his initial reservations towards the idea. At the moment, nothing is in the works, and as far as Hawke is concerned, there is only one answer. As he explains,
Ethan Hawke makes an interesting point regarding the form of Boyhood and its possible narrative limitations. The film seemed designed as kind of a snapshot into a random life, rather than some drama carrying a weight of self-importance towards a protagonist. It wasn't necessarily the specific life of young Mason that was intrinsically important to the film's effect. Rather, it was that the structure of this decade-plus snapshot of his life -- and the relatability to the audience -- that seemed to be the crux of the film.
A perennial cleaner-upper during this past winter's awards show season, save for "the big one" at the Academy Awards, Boyhood proved to be an artistic and utilitarian accomplishment in the unsung category of commitment. Director Richard Linklater would create the most definitive unraveling of continuity ever in a work, filming young Ellar Coltrane, who would quite literally grow into his role as Mason, from ages 6 to 18. The film completely broke new ground in its chronological production approach, yet showed itself to be a work that, in a certain sense, retained Linklater's scattershot, sporadic focus on drama that seemingly unfurls on its own.
Thus, the grasp that Boyhood has on the audience was, in a Linklater-esque fashion, fleeting by its nature, as the titular time in one's life was essentially the film's "star." (Rather than, comparatively, a love-struck couple in Linklater's Before films.) As Ethan Hawke would further imply in the interview, once you leave that structured "grid" of grade school, lives become radically disparate and certainly less relatable in the same cinematic scope. In that sense, moving past the depicted boyhood of Boyhood might be moot. A potential "quarter-life crisis" film might come across as detrimentally myopic.
It does seem that Boyhood was a once-in-a-career experiment that probably would not lend itself well to duplication. However, for all we know, another innovative idea could be ruminating in the mind of the eccentric Austinite, Richard Linklater, that's equally as innovative, but may not be so time-consuming. While the life of Mason captivated many, audiences probably won't want to stick with him long enough to see him register for his AARP card.
Your Daily Blend of Entertainment News
Your Daily Blend of Entertainment News
Thank you for signing up to CinemaBlend. You will receive a verification email shortly.
There was a problem. Please refresh the page and try again.