James Bond Will Fall For This Beautiful Woman In Bond 24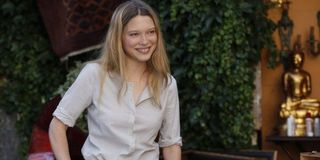 Lea Seydoux has been cast as the new Bond girl opposite Daniel Craig in Sam Mendes' upcoming 24th instalment to the beloved franchise, which is set to begin filming in around six weeks time. Obviously, at this point, not too much else is known about her character, but some reports have described her as a "femme fatale," which suggests that her mischievous activities will cause 007 all kinds of bother.
According to the Daily Mail, the next few weeks will see Seydoux undertake a number of costume, make-up and camera tests alongside the series' long-term producers Barbara Broccoli and Michael G. Wilson as well as Mendes, who is helming his second Bond film after 2012's Skyfall. This will allow the quartet to determine her specific "look" for the film before the Parisian born actress meets up with her fellow acting ensemble, which includes Daniel Craig, Ralph Fiennes, Ben Whishaw, and Naomie Harris, to rehearse the script for the first time towards the end of November.
Lea Seydoux is set to bring her own specific acting qualities to Bond 24, and I believe that, if she's utilized correctly, she could combine the Bond girl of the '60s and '70s with a more modern take on the character. In Mission: Impossible – Ghost Protocol, she provided an intense menace that, for the most part, had Tom Cruise and Jeremy Renner back-peddling, but despite her threat there was always an earthy sexiness to her that still managed to appeal. I just realized how creepy the last part of that sentence kind of sounded but I'm going to stick to it. You can check out a clip of her in the blockbuster below:
Meanwhile even though she only had minor roles in the likes of The Grand Budapest Hotel, Midnight In Paris, Inglorious Basterds, and Robin Hood, she still managed to grab your attention thanks to her soulful face, which allowed her to project a nuanced complexity simply with a look or a gaze.
But of course, Lea Seydoux's finest on-screen effort so far in her short, yet rather impressive, career came with Blue Is The Warmest Color, which won the 2013 Palme d'Or at the Cannes Film Festival. Despite her best efforts not to be (the blue-hair was kind of a turn-off), Seydoux still managed to glow throughout the erotic romantic drama. Her portrayal went deeper than that, as she was able to emanate a series of complex emotions, that are part and parcel of every single relationship, with ease. They systematically combined to help make a truly delightful symphony of cinema that she was at the heart of. Simply put, without Lea Seydoux and her co-star, Adele Exarchopoulos, the film would have deflated under its 3-hour running time. Instead, their perfectly pitched performances managed to make it go by as if it were a breeze.
But will she be able to bring these qualities to Bond 24? Or will her indelible talents be suffocated by the blockbuster?
I'm confident that she'll be able to excel. Not only does she have one of the greatest "actor" directors of the modern era in Sam Mendes overseeing her performance, she also has a generous cast to play against. Daniel Craig and Ralph Fiennes are the sort of actors who will allow her to shine in a scene rather than competing against her for attention. And if her character is in the same mold as Eva Green's Vesper Lynd in Casino Royale, then she will be given plenty to play with. But if she turns out to be like Olga Kurylenko's Camille Montes from Quantum Of Solace, then it will be a huge waste of her skills. Either way, Bond 24 is currently set up very nicely, and her addition means that there is now plenty more to be excited about.
Your Daily Blend of Entertainment News