James Marsden Joins Mark Walhberg And Denzel Washington In 2 Guns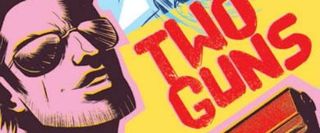 As previously announced, Denzel Washington and Mark Wahlberg are set to star in the upcoming action flick 2 Guns. An adaptation of Steven Grant's comic book,, the film not only re-teams Walhberg with Contraband director Baltasar Kormakur but also finds Washington back with Safe House director of photography Oliver Wood. This only strengthens my first thought 2 Guns is somehow a cross-over sequel to both action films from early this year. It does have the number '2' in the title. Neither were very good but maybe this is their chance to make up for the mediocrity?
In addition to the superstar leading men, 2 Guns also boasts a pretty impressive supporting cast including Paula Patton (Washington's Deja Vu love interest), Edward James Olmos, Bill Paxton and, now, according to Variety, James Marsden. Marsden, who is best known for his role as Scott 'Cyclops' Summers in the X-Men series, will be playing the role of a naval commander, though no details are given about how he fits into the plot. Marsden is a solid actor but lately he seems to be only appear in some incredibly forgettable films. Even though it's not a prestige project, this role at least guarantees that he'll be working with some big name talent.
Adapted for the screen by Blake Masters (Rubicon), 2 Guns is about a pair of undercover investigators, Wahlberg a Navy SEAL and Washington's DEA agent, who find themselves working on the same heist while completely unaware of the other's operation. They think they are stealing $50 million dollars from the mob but, after some predictable backstabbing, it turns out the money actually belongs to the CIA. Judging by title, Marsden is probably the one in charge of Wahlberg's Navy SEAL. Production on the film has already begun down in New Orleans and while no release date has been announced yet, it's expected that the film will drop sometime in 2013.
Your Daily Blend of Entertainment News
Thank you for signing up to CinemaBlend. You will receive a verification email shortly.
There was a problem. Please refresh the page and try again.