James McAvoy Could Front The Crow Reboot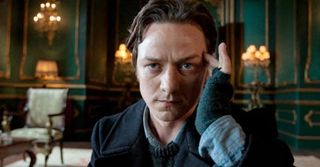 Based on the brutal but beautiful comics of James O'Barr, the 1994 thriller The Crow captured the attention of critics and imaginations of countless fans. Part of the film's success was due to the inventiveness of director Alex Proyas. Part is owed to the harrowing story of a man murdered before his raped and dying girlfriend, who returns from the dead to seek merciless revenge to a scintillating soundtrack. Part belongs to the blisteringly bold performance by then emerging leading man Brandon Lee. And sadly, part of the intense devotion many fans feel to this feature is the attached to the art-imitating-life tragedy when an onset accident killed the star.
While the concept allowed for a string of forgettable sequels, there's been much outcry over plans to reboot the franchise. The Crow does, after all, contain Lee's definitive and final performance. Nonetheless, reboot rumors have been floating around since 2009. Since then directors and leading men have come and gone. Mark Wahlberg walked after Stephen Norrington declined to helm the feature. Then Juan Carlos Fresnadillo and Bradley Cooper were attached to direct and star respectively. Next Cooper was out and Channing Tatum was rumored for the role.
The last we heard on the project was in January of 2012, when the reboot had acquired a new writer (It Runs In the Family scribe Jesse Wigutow) and new director (Before the Fall helmer F. Javier Gutierrez). Then news on the project went silent as the grave until Bloody Disgusting unearthed word that X-Men: First Class' James McAvoy is currently circling the project. Should he sign on, McAvoy would play Eric Draven, the man who becomes the avenging angel known as The Crow.
Wigutow and Gutierrez are reportedly still attached to the project, but there's no guess as to when it might actually roll into production. As a fan of the original, I admit, never would be too soon for me.
Your Daily Blend of Entertainment News
Staff writer at CinemaBlend.