Jason Clarke Fights The Elements In Everest First Look Photo, Release Date Moved To Fall 2015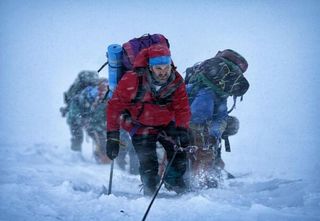 Are you ready to climb the summit? Everest is coming, a big, exciting 3D adventure movie from director Baltasar Kormakur (Contraband) and now we have our first look. As you can see above, that's the fierce Jason Clarke leading the expedition into the harsh terrain, on their way through one of the worst snowstorms in recorded history. The true story also stars Josh Brolin, John Hawkes and Jake Gyllenhaal, and from the looks of it, it's going to be a pretty unpleasant go of it for our intrepid explorers.
On the heels of this first peak comes word from The Film Stage that the release date has changed for the action picture. Everest was originally expected on February 27th, 2015. Now, it's been bumped until later in the year, set to debut on September 18th, 2015. The original release date would have seen the picture competing with two modestly-sized star pictures: the Will Smith-Margot Robbie grafter picture Focus will hit on that date. Also debuting is the latest from Tarsem, the movie Selfless with Ryan Reynolds. Even considering the dubious star appeal of the toxic Reynolds, who has to live down recent bombs Green Lantern and R.I.P.D., that was probably a smart shift.
Now the snowy survival picture will have a home in the still-relatively-unoccupied September month of 2015. Everest will arrive a week before the only two announced September releases. On the 25th, writer-director Nancy Meyers (It's Complicated) returns with The Intern starring Anne Hathaway and Robert De Niro. Also hitting in that spot is the early-for-Halloween kids' flick Hotel Transylvania 2, and hands up if you remember ANYTHING about the first Hotel Transylvania.
Interesting that Clarke was the actor selected to give fans a sneak peek at Everest.
He's been bouncing around Hollywood for a while now, bringing intensity to even the smallest parts. The Australian actor, who seems like he'd be a smaller name that Brolin and Gyllenhaal, turned heads in a major way with two standout roles. In Lawless, he fit the role of the third Bondurant brother alongside Tom Hardy and Shia LaBeouf with an impressive gravity and grit. And while Jessica Chastain was the standout performance in Zero Dark Thirty, Clarke's performance as a weary detainment camp interrogator created some of the film's most indelible and upsetting images. The actor will loom large in two very large roles coming up: in Dawn Of The Planet Of The Apes, he'll lead the charge against those damned filthy apes. And in Terminator: Genesis, he becomes the latest actor to step into the boots of humanity's savior, John Connor.
Your Daily Blend of Entertainment News
Thank you for signing up to CinemaBlend. You will receive a verification email shortly.
There was a problem. Please refresh the page and try again.