Jason Statham To Fight Side By Side With Susan Cooper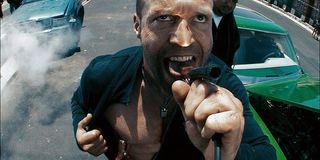 Jason Statham is at a major turning point in his career. Is he still a leading man? Well, perhaps a better question is, can you imagine him standing behind another leading man? Looking back on 2003's The Italian Job, it seems improbable that Statham would need the help of Marky Mark and Seth Green in executing a heist. You watch Snatch today, with its collection of colorful names, and you wonder why Statham isn't drop-kicking people.
But when things are getting a bit stale for Statham, he knows when to mix it up. And his latest role is quite a shift: Variety confirms the rumors that Statham is attached to Susan Cooper, a major tentpole comedy starring Melissa McCarthy. Statham wouldn't have to stretch too much, playing a British spy who aligns himself with McCarthy on assignment. McCarthy's The Heat collaborator Paul Feig would be directing his own script, and a May 22nd release date has been fingered. Rose Byrne, from Feig's Bridesmaids, will also star.
So what kind of movie is this going to be, anyway? You hate to be that guy, but the obvious fact that McCarthy doesn't seem to be spy material, combined with her teaming with polar opposite Statham, suggests this is a spoofy film that's going to have a few laughs at McCarthy's expense. At the same time, The Heat had laughs, and it also worked as a straightforward cop film. And if you took a serious look at the world of real-world espionage, you'd find there are a lot more women who look like McCarthy than there are men who resemble Statham. There are also less car chases and explosions, however, and Susan Cooper probably has a couple of those. And hey, maybe it's a love story. Regardless, if played straight, you'd love to see McCarthy and Statham double fisting guns and firing in all directions.
Statham's in a precarious position in his career: excluding the Expendables ensembles, he hasn't had a film surpass $40 million domestically since 2005's The Transporter 2. Read that again, box office junkies: a Statham-led film hasn't grossed over $40 million in almost ten years! That sort of track record will kill a career. Fortunately, Statham's films are massive on DVD, and he keeps doing ensemble work like the upcoming The Expendables 3 and Fast And Furious 7 to remain something of a marquee name. Susan Cooper helps with that, but this seems like a guy who needs a breakout solo hit very soon. And, sorry Jason, but it doesn't seem like it's gonna be The Mechanic 2.
Your Daily Blend of Entertainment News
Thank you for signing up to CinemaBlend. You will receive a verification email shortly.
There was a problem. Please refresh the page and try again.