Jaws Blu-Ray Tentatively Set To Street Next August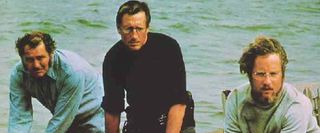 With Blu-ray films increasingly dominating the market over the past several years, you would think most of the big blockbuster films of the past forty years would have already produced a high definition release, but it seems we are not quite there...yet. Earlier this year, we heard Steven Spielberg would be bringing Jaws to Blu-ray after he finished the Jurassic Park Trilogy Blu-ray project. That set came out back in October, and now Spielberg is officially getting his act together with Jaws.
The 1975 movie about a shark terrorizing Amity Island during tourism season made more than four hundred and fifty million dollars, and in doing so launched an era of Blockbuster mega-movies that are still being created for summer release. Although no special features or specifications are currently available for the upcoming Blu-ray release, if the Jurassic Park Trilogy set is any indication, the Jaws Blu-ray release may come as a stand alone, and also as a set involving some or all of its sequels.
Universal Studios Home Entertainment has given the film a tentative release date of August 14 of next year, so hopeful buyers still have a while to decide whether or not Jaws' death in high def will be the perfect addition to Blu-ray collections. Until then, Cinema Blend will keep you posted about any extras or other news that comes our way, even if it means losing an arm or leg to get it to you.
Your Daily Blend of Entertainment News
Thank you for signing up to CinemaBlend. You will receive a verification email shortly.
There was a problem. Please refresh the page and try again.