Jeopardy Winner Thomas Horn To Star In Extremely Loud And Incredibly Close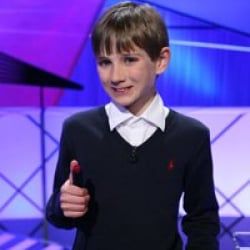 The main character in Jonathan Safran Foer's novel Extremely Loud and Incredibly Close is the incredibly smart and talkative nine-year-old Oskar Schell, who narrates the book about his attempts to cope with his father's death on 9/11. The movie version of the book got a huge leg up when Tom Hans and Sandra Bullock signed on to star for director Stephen Daldry, but they still had to find a kid who could lead the film on his own.
It was presumed that Daldry would seek out an unknown, and he has, but it's a kid with some unusual TV experience under his belt. Deadline reports that Kids Jeopardy!-winning 12-year-old Thomas Horn has been cast to play Oskar in the project, which will start shooting eventually once Bullock gets her schedule in line. After winning $31,800 on the quiz show Horn signed with the talent management agency ICM, so clearly he already had designs toward some kind of career on the screen.
Will he be as good at acting as he was at answering questions on TV? I'd imagine the key is Daldry, who directed then-newcomer Jamie Bell in Billy Elliott with great success. Hopefully he saw something in Horn that screamed "Oskar" to him, and will be able to bring that out even opposite heavyweights Bullock and Hanks. The book is tricky to adapt, but there seems to be enough creative thought going into this that it'll be a challenge worth seeing.
Staff Writer at CinemaBlend
Your Daily Blend of Entertainment News
Thank you for signing up to CinemaBlend. You will receive a verification email shortly.
There was a problem. Please refresh the page and try again.