Jim Henson Company Developing Animated Feature Of Frog and Toad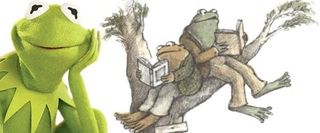 When you hear the name Jim Henson, inevitably the first image that springs to mind is one —if not a gaggle—of Muppets bobbing around, with some mysterious puppeteer masterfully performing from below. Yet the Jim Henson Company's next film project will be puppetry-free as Deadline reports the company is developing an animated film based on Arnold Lobel's beloved children's books Frog and Toad.
For many, these four collections of the adventures of two amphibian friends were among the first books that spurred us to read, written with an easy-reader level and punctuated by Lobel's precious illustrations. In each, Frog, a long and lean fellow with a friendly and easy-going disposition, and Toad, a stern, squat and easily irritated chap, would discover some bit of trouble or another and rediscover how their differences are their strengths. Their exploits have previously inspired a few stop-motion shorts as well as a Broadway musical A Year With Frog and Toad.
While there's plenty of adventures to pluck inspiration from, it's still a bit perplexing that the Jim Henson Company would choose to make a movie about a frog, but favor animation over puppetry. Of course the fact that the company no longer owns the rights to any of the classic Muppet characters was surely a major factor in that decision. To their credit they have a pretty intriguing animated adventure on the horizon in Guillermo del Toro's Pinocchio, which is due out in 2014.
Hey Arnold! creator Craig Bartlett is translating the tales of Frog and Toad; Cory Edwards (Hoodwinked!) will direct, while Lisa Henson, daughter of Jim and CEO of JHC, will produce along with Lobel's children Adam and Adrianne. More details should soon surface as the Jim Henson Company pitches Frog and Toad at Las Vegas's Licensing Expo later this month.
Staff writer at CinemaBlend.