Jim Jarmusch Turning Swinton, Fassbender And Wasikowska Into Vampires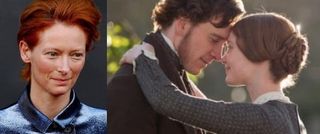 The vampire trend may very well be dying out, but who better to get one last stab--ha!-- at it than Jim Jarmusch? According to Screen Daily the white-haired auteur is setting up his next film as what he calls a "crypto-vampire love story," and it's got one hell of a cast involved: Michael Fassbender, Mia Wasikowska, Tilda Swinton and John Hurt. Not only that but those first three names will actually be playing vampires-- it's almost too absurd and great to be real.
Jarmusch told Screen Daily, "I've been imagining this film for years. I can't wait to now realise it with these remarkable collaborators," which sounds almost like an understatement considering the amount of talent he's got on board here. The untitled film will shoot in Germany, Morocco and Detroit early next year, reuniting Jane Eyre co-stars Wasikowska and Fassbender and Jarmusch with Swinton, who starred for him in The Limits of Control and Broken Flowers. The movie will likely be in theaters after the last Twilight film finally gets out there, so Jarmusch could easily have the last laugh in the vampire craze-- and I can't think of anyone who deserves it more.
Staff Writer at CinemaBlend
Your Daily Blend of Entertainment News
Thank you for signing up to CinemaBlend. You will receive a verification email shortly.
There was a problem. Please refresh the page and try again.