Jimmy Carter Watched A Ton Of Movies During His Presidency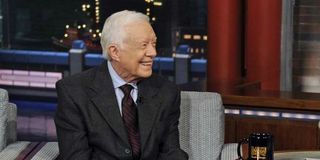 If you're a fan of Comedy Central's Drunk History — or, I guess, just regular history — then you're well aware that Ronald Reagan is commonly acknowledged for his love of movies, given his early career as an actor. But he's not the only Commander in Chief with such a passion, as it turns out that Jimmy Carter, the 39th President of the United States, watched a lot of movies during his term — a lot of movies.
Matt Novak from over at Gawker Media did something none of us wanted to do, he poured over Jimmy Carter's daily journal, and this dedication yielded results. Through his research, he discovered Carter watched more movies than Reagan did while in office from January 20, 1977 to January 20, 1981. According to the list, Carter watched more than 400 movies at the White House and Camp David, though Novak acknowledges that there could be more. In February of 2013, The Week published an article saying the number was 480 films, according to White House records.
Let's check out some of the more interesting choices.
It seems Carter experienced everything he could, including war movies, like Apocalypse Now; titles that dealt with energy concerns, like The China Syndrome; and raunchy comedies, like Animal House. One of the standouts, however, is Star Wars. As Novak points out, on February 4, 1978, Carter watched the first of George Lucas' original trilogy with Anwar Sadat, the President of Egypt at the time, while at Camp David. This encounter — not specifically watching the film — consisted of a secret strategy meeting for peace in the Middle East.
Often times Carter would host screenings for White House guests instead of enjoying a quiet movie night with First Lady Rosalynn. One of these was Autumn Sonata (starring Ingrid Bergman), which screened for approximately 48 White House staffers.
Also included among the list is Midnight Cowboy, starring Dustin Hoffman and Jon Voight, about a hustler who moves to New York. It's largely referred to as the first X-rated film ever screened in the White House. However, if you want to get technical, the film came out in 1969 and many movie theaters didn't want to screen it because of the rating. In 1971, the film was re-rated as R, and Carter screened it in December of 1977. So, take that for whatever it's worth.
The Philadelphia Inquirer reported that Carter's favorite movie was Close Encounters of the Third Kind, though other reports state that during a townhall event in 2004, Carter proclaimed his favorites to be Casablanca and Fahrenheit 451.
Your Daily Blend of Entertainment News
Thank you for signing up to CinemaBlend. You will receive a verification email shortly.
There was a problem. Please refresh the page and try again.