Joe Wright Could Tackle A Peter Pan Origin Story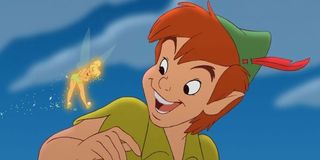 From Atonement to Pride & Prejudice and Anna Karenina, English auteur Joe Wright has built a reputation constructing elaborate and inventive adaptations from beloved novels. So, it's little wonder Warner Bros would eye him for a new angle on the long-established story of Peter Pan. THR reports Wright is in negotiations to direct a Peter Pan project for Warner Bros "that would give Pan the Batman Begins treatment.
Written by Ice Age: Continental Drift scribe Jason Fuchs, this Peter Pan will focus on the origin story of the mischievous boy who was destined to high-flying adventures with fairies, pirates, Indians, and lost boys. At this time its unknown what members of Pan's iconic crew will appear in this re-imagination, but we may find out in short order as Warner Bros is reportedly highly motivated to get this film rolling. We suspect part of their enthusiasm is over the project itself, while part is surely thanks to a wish to beat other studios to the gate, as two other prequel Pan projects are currently brewing elsewhere.
Both Columbia and Disney have Peter Pan origin stories in the works. Since 2011, Pan (formerly Peter Pan Begins) has had Channing Tatum attached as a producer--and possibly star. But few headlines have been made by that project in the meantime. On the other hand, Disney, who of course created the beloved animated Peter Pan, is developing the Broadway musical based on the Dave Barry and Ridley Pearson novel Peter and the Starcatcher into a live-action and family-friendly adventure. In the summer of 2012, The Hunger Games helmer Gary Ross signed on to direct for Disney, but little headway seems to have been made since then.
Could this lead to Snow White-like showdown at the box office? Frankly, with none of these possible prequels announcing start dates it's too soon to say how this will shake out. But of all these proposed properties, I'm the most interested in WB's Peter Pan almost solely because they could have Wright. The story of Peter Pan has of course been tackled again and again in movies like the 1953 animated adventure, P.J. Hogan's underrated 2003 live-action take, and less conventional approaches like Marc Forster's Finding Neverland or Steven Spielberg's latter-day Pan tale Hook.
Basically, there's a lot of fun that can be had with J.M. Barrie's story. But of all the contemporary filmmakers who could give it a go, Wright would be at the top of my list. Not only do his adaptations often capture the emotions and spirit of their source material, but he manages to tell period piece tales in a way that makes them feel fresh and relevant to modern audiences. On top of that, he has a daring directing style that involves awe-inspiring long takes and risky maneuvers like the surreal staging of Anna Karenina within a literal theater. In short, no matter how high a price Wright demands for his involvement, I think WB should pay it and get Peter Pan flying along before Disney or Colombia gets their acts together.
This poll is no longer available.
Your Daily Blend of Entertainment News
Staff writer at CinemaBlend.
Your Daily Blend of Entertainment News
Thank you for signing up to CinemaBlend. You will receive a verification email shortly.
There was a problem. Please refresh the page and try again.