John Cusack Is Here To Steal Your Kids In Reclaim Trailer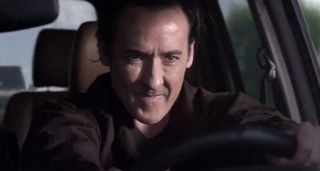 The internet has democratized information, which means you can't scare anyone with urban horror stories - like the one about an adoption agency that re-adopts kids for a ransom price. Fortunately, there are movies like Reclaim that come along ready to scare the bejesus out of any would-be parent thinking of adoption. Beware – your Third World child might just be bait to allow John Cusack to capture and torture you!
Cusack, who still deserves his own Taken, is probably paying some gambling debts by appearing in films like this, The Prince and The Bag Man. Here, he's a mysterious loner who gets too close to a married couple played by Ryan Phillipe and Rachel Lefevre on their vacation. Suddenly, the child is gone! Maybe the cops could help. Or maybe the adoption agent (Academy award nominee Jacki Weaver) is in on it...and there is no adoption agency! ADOPTCEPTION!
It's amazing how there's this little universe out there of movies that keep guys like Cusack and Phillipe out of mainstream cinema. Heck, it's almost as if Luis Guzman just stepped out of his role as a cop in the recent In The Blood to play the same character in here. On one level, you're tickled to see Cusack fire guns in movies like Drive Hard (particularly if director Brian Trenchard-Smith brings his A-game). But again, it's unusual to see him scowling through a role that a less dynamic actor could knock out of the park.
All that being said, "You bought our daughter on the black market?" is not only one of the all-time greatest guilt trips in wife history, but a great hook for a movie. Reclaim is going to have tropical locations, harried parents, chases (some in cars), fights, and a couple of big stars. And while it's not a big role, you're also going to get the wonderfully wicked Weaver chewing scenery in her duplicitous adoption role. This movie can only be so bad, really.
Reclaim is coming from director Alan White, who debuted with 1999's Erskineville Kings, which actually features a pre-Wolverine Hugh Jackman and a young Joel Edgerton. That's right, as you can tell, Jackman was already a mega-hottie at that point:
No awkward period there. So far, all of White's films have been a bit smaller, so this is his shot at the big time. Reclaim opens in select theaters on September 19th, while also arriving on VOD. Hopefully, one of those theaters selected will be near you!
Your Daily Blend of Entertainment News
Thank you for signing up to CinemaBlend. You will receive a verification email shortly.
There was a problem. Please refresh the page and try again.