John Singleton Prepping Tupac Biopic To Shoot This Summer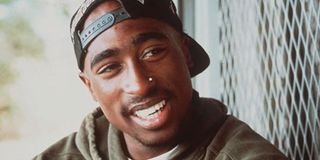 Writer-director John Singleton defined urban drama with films like Boyz n the Hood, Poetic Justice, and Higher Learning, but his reputation took a serious hit in 2011 with the major misfire Abduction. The Taylor Lautner-fronted thriller was a box office flop that was totally loathed by critics. Now, Singleton is looking to turn his flailing career around by helming the long in-development Tupac biopic.
Variety reports Morgan Creek has signed up Singleton to produce, direct and rewrite the Untitled Tupac Shakur Biopic. The movie is expected to follow the rise of the rap star to fame, fortune and controversy. Then, it will conclude with his untimely murder at the age of 25.
Speaking out about this opportunity, Singleton told Variety:
Fans might recall that Singleton's Poetic Justice was one of the films in which Shakur appeared in his short life. In it, he co-starred with Janet Jackson. Revisit the film's trailer below:
With more than 15 years having passed since Shakur's death, this biopic is far from timely, but it's been a rocky road trying to get the film made. Morgan Creek's project has faced a number of obstacles and false starts. Back in 2009, the would-be movie hit a snag when the production company got into a dispute with the rapper's mother, Afeni Shakur. By early 2011, these parties had made peace, and Training Day helmer Antoine Fuqua was on board to direct. The search for the perfect Tupac began, and resulted in an open casting call, leading to character breakdowns being made public. But the tireless search for a stellar leading man turned up nothing that impressed Fuqua. He dropped the biopic.
By the fall of 2011, Singleton was in talks. But this attempt at making the Untitled Tupac Shakur Biopic happen also failed. Since then, the film has been in limbo, but Singleton's return signals a new life. First he'll rewrite the script by Stephen J. Rivele and Chris Wilkinson, with revisions by Brian Tucker. And if all goes well, Morgan Creek and Singleton could be rolling into production by as early as June. This means we could be hearing casting reports very soon.
For more on the still unsolved murder of Shakur, check out this VH1 News report:
Staff writer at CinemaBlend.
Your Daily Blend of Entertainment News
Thank you for signing up to CinemaBlend. You will receive a verification email shortly.
There was a problem. Please refresh the page and try again.