Johnny Depp To Give Lone Ranger's Tonto The Jack Sparrow Treatment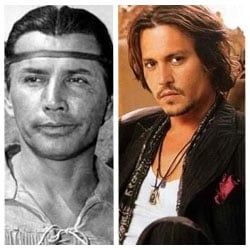 It's been just about a year (almost to the day) since we've heard anything about Jerry Bruckheimer and Johnny Depp's plan to play cowboys and Indians. During a recent interview, Bruckheimer got chatty about the project to turn the popular western radio and television show, The Lone Ranger, into a feature film. There's not much in terms of new news, however Bruckheimer does confirm the project is still aiming for a 2012 release.
According to Sci Fi Wire, Bruckheimer explained that Pirates of the Caribbean writers Ted Elliot and Terry Rossio collaborated with additional writers and Depp to put together something "that has a kind of true-to-the-western [feel], but adding other additional elements like we did with Pirates so it won't be just a straight-ahead western." As for Depp as the Ranger's Native American sidekick, Tonto, he says to expect Depp to do for Tonto what he did with Captain Jack Sparrow. In the Lone Ranger's case, they have an actor "wish list," but it will likely come down to availability.
While there's little doubt Depp will be anything less that spectacular in the role of Tonto, it's still hard to imagine Bruckheimer tracking down a Lone Ranger that won't be outshone. I'd like to see Depp reunite with his What's Eating Gilbert Grape co-star, Leonardo DiCaprio. DiCaprio has an equally commanding screen presence and can undoubtedly rise to the forefront when necessary. The Lone Ranger isn't the only vital element still unaccounted for; what about a director?
Your Daily Blend of Entertainment News
Staff Writer for CinemaBlend.