Jonah Hill And Channing Tatum Break The Rules In New 21 Jump Street Trailer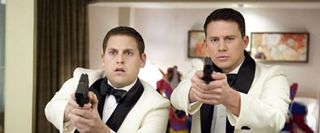 Let's face it, a 21 Jump Street movie has never exactly sounded like a good idea. It's been over 20 years since the show last aired. Johnny Depp is now one of the biggest movie stars in the world, and Richard Grieco is…well, I'm sure he's around somewhere. Much of the age group a new 21 Jump Street movie would try to target has probably never seen a single episode. But if we have to have one, the approach taken by directors Phil Lord and Chris Miller is probably best. Namely: don't take it at all seriously.
That tongue-in-cheek tone is still on full display in the latest trailer for the flick. Jonah Hill dresses like Eminem and fails to slide over the hood of a car. Channing Tatum gets hit on by a high school teacher and suggests that perps have the right to be attorneys. No sign of Johnny Depp in this one, but we do get glimpses of funny people including The Office's Ellie Kemper and Parks and Recreation's Nick Offerman (man, they really raided NBC's Thursday-night line-up for this one, didn't they?).
Here's the latest look at 21 Jump Street, courtesy of Digital Spy:
21 Jump Street opens on March 16th, 2012. You can also check out the previously released green- and red-band trailers.
Your Daily Blend of Entertainment News
Your Daily Blend of Entertainment News
Thank you for signing up to CinemaBlend. You will receive a verification email shortly.
There was a problem. Please refresh the page and try again.