Jonah Hill Is The Next Tom Cruise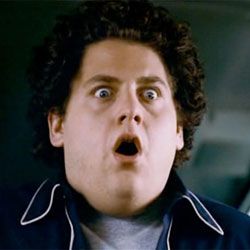 I still think of Jonah Hill as Hollywood's default, fat sidekick but apparently Hollywood has started thinking of him as the next Tom Cruise, or at the least, the next Jason Segel. Variety says Universal has bought up a comedy pitch called The Best Thing About Pam Rooney, with the express intent of turning it into a star vehicle for Jonah. I say smart move. One of Jonah's next movies is a little something called Get Him to the Greek, and if the film turns out to be even half as funny as the script, then Hill will be king of the mountain when it's released in 2010.
So Universal's got him locked up in advance of his almost certain future mega-stardom and they're slipping him into a nice, comfortable rom-com where he'll almost certainly be paired with a beautiful woman who would never date a guy that fat in real life. Actually Pam Rooney is described as a "high-concept" rom-com which hopefully means it's a notch above the usual awful, yet inexplicably popular Katherine Heigl romance genre entry. As long as Jonah Hill wears glasses. He's always at his best when wearing glasses.
Your Daily Blend of Entertainment News
Thank you for signing up to CinemaBlend. You will receive a verification email shortly.
There was a problem. Please refresh the page and try again.